By Peter M. Denk, MD, FACS –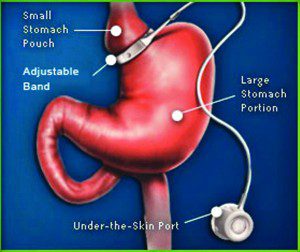 The importance of a healthy weight is all over the media these days. An appropriate Body Mass Index or BMI plays a significant role in reaching that healthy lifestyle, as recently seen on multiple Dr Oz episodes. The episodes featured earlier this year discussed the benefits of LAP-BAND® surgery for patients with a lower BMI and the benefits of disease prevention. Bariatric surgery has historically been utilized as a weight loss solution for patients with a BMI of 35 or greater. More recent evidence strongly suggests that weight loss surgery is an effective option for those people who are overweight but have not yet reached a BMI above 35. Individuals with a BMI of 30 – 35 suffer a disproportionately high incidence of hypertension, diabetes, hyperlipidemia, heart disease, obstructive sleep apnea and degenerative joint disease, and they will experience a shortened lifespan if a healthier, lower weight is not achieved.
The U.S. Food and Drug Administration has expanded the use of the LAP-BAND® Adjustable Gastric Banding System, a device implanted around the upper part of the stomach to limit the amount of food that can be eaten at one time. The science indicates that a person with a BMI of 30 or greater will enjoy a significant health improvement as a result of LAP-BAND® surgery and even moderate weight loss.
Benefits of LAP-BAND® Surgery Include:
• It's reversible
• No cutting or stapling of the stomach
• Less pain and discomfort than other weight loss surgeries
• Less invasive than traditional weight loss surgeries
• Quicker recovery period
With more than 600,000 procedures preformed worldwide, the LAP-BAND® system is one of the most popular laparoscopic gastric band surgeries.
What does LAP-BAND® Surgery entail?
LAP-BAND® surgery at GI Surgical Specialists involves the implantation of a fully adjustable medical device known as a "gastric band" around the upper portion of the stomach during a minimally invasive laparoscopic operation.
During laparoscopic gastric band surgery, your surgeon will use a laparoscope, a thin, flexible tube equipped with a light, camera and other surgical tools to guide the gastric band into place. This camera transmits information to a video screen so the surgeon can view the surgical area and perform the procedure. At this time, your surgeon can adjust and tighten the band to reduce the amount of food you can eat by injecting sterile saline (salt water) into the fill port.
The objective of the LAP-BAND® procedure is to create a stomach pouch that can only hold a small amount of food, thereby reducing the stomach's food storage capacity. Your gastric band will also control the stoma or stomach outlet between the newly created smaller pouch and the lower part of the stomach. The smaller your stomach pouch the faster you will feel full and the longer food will take to move between the upper and lower portions of the stomach during digestion. Thanks to your LAP-BAND®, you will feel full, eat less and finally lose weight.
What to expect from LAP-BAND® surgery?
Ninety-four percent of LAP-BAND® patients are satisfied with their weight loss results after one year. LAP-BAND® patients lose one to two pounds per week on average, though some patients report losing at a faster rate. Factors like your starting weight, your ability to adjust to the dietary and lifestyle changes and your health will impact the rate at which you lose weight. Most LAP-BAND® patients lose 50-100 pounds in their first year following surgery.
Lower BMI Insurance Coverage:
Individual policies vary, but typically Insurance companies are less likely to cover weight loss surgery for patients with a lower Body Mass Index. As a result, most people with a BMI under 35 who are looking for weight loss surgery must find a way to cover the cost on their own. GI Surgical Specialists is pleased to work with Sprinestone patient financing. Through their services patients are able to make monthly payments that fit within their budget. In addition, individuals undergoing the procedure with GI Surgical Specialists will also have coverage for most of the potential complications that could occur after surgery. This is extremely important because it allows a person to have a clear expectation of what the costs are and not run into unexpected financial expenses after surgery. This type of insurance coverage is provided through the BLIS Corporation and covers a vast majority of potential problems or complications at no additional cost to the patient. If you are comparing prices at different centers, make sure you factor in this complications protection benefit. Also make sure you factor in the experience and success of your surgeon!
GI Surgical Specialists
Ft Myers Office
13710 Metropolis Ave. #101
Fort Myers, FL 33912
Naples Office
8340 Collier Blvd. Suite 205
Naples, FL 34114
(239) 313-7522
GISurgical.com