Dr. H. Kurtis Biggs – Board-Certified Orthopaedic Surgeon
Find out how you can get a customized implant for your best outcome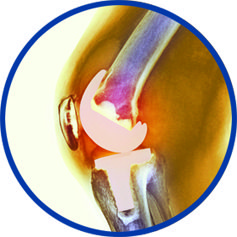 When arthritis or injury causes knee pain that is uncontrolled by medication, injections, or physical therapy, knee replacement is the most logical means to restore your knee function and to provide you with substantial pain relief. Many people don't realize how common knee replacement surgery is here in the United States. Nearly 700,000 people will undergo replacement surgery this year alone, and that number is expected to reach over 3 million within the next ten years. With so many individuals needing knee replacement surgery, it's critical to understand your options.
If you were having a custom kitchen designed by an expert builder, they wouldn't just buy a marble countertop off the shelf at a home improvement store; they would have it measured precisely, finely cut, trimmed and polished before installing it in your highly-anticipated new kitchen. Being meticulous about our homes is one thing, but when it comes to our unique bodies, why would an orthopedic surgeon choose an "off the shelf" knee replacement?
Ironically, the standard knee replacement implant is selected from a base range of sizes. The surgeon has to manually try to make the adjustments during the procedure to fit your specific anatomical bones and inner knee space. With this type of implant, many times there is an issue of the implant hanging over the bone or falling short (under-hang), which leaves bone exposed. If your implant isn't aligned properly, you will most likely have significant issues with mobility and comfort. Clinical studies have demonstrated that these compromises on fit can cause residual pain after surgery. This is precisely the reason that 1 in 5 patients are unsatisfied with their knee replacement.
Dr. Kurtis Biggs does things a little differently because he has his patient's best outcome always in the forefront of his mind. Therefore, he works closely with a medical device company called; ConforMIS, which designs partial and total knee implants to fit the patient's specific anatomy. Using proven techniques for standard knee replacement, coupled with their exclusive CT scan and 3D modeling method, called an iFit Image-to-Implant® technology, together, Dr. Biggs and ConforMIS create a customized knee to fit your body.
There are also alternatives to having a total knee replaced. For example, many patients are unaware of the fact that they can receive a partial implant. Arthritic damage to one side of the knee is common, so utilizing an implant customized for the medial or lateral deteriorated area is sometimes a better option than a total knee replacement depending on your individual circumstances.
If you are a candidate for a partial knee implant, with the ConforMIS technique, Dr. Biggs will be able to preserve your tendons and ligaments, as well as part of your natural knee bone. This will allow quicker healing, better progress; and preserving bone will provide more natural knee for any future treatments that may be necessary.
Polyethylene is the material that is used in almost all knee implants. Polyethylene allows the joint of the implant mechanisms to move freely. However, the polyethylene sits on a metal platform like a fulcrum, cushioned in between bones. This can cause a great deal of wear and tear on the material of the implant.
ConforMIS manufactures its material differently and eliminates the typical deterioration through a unique process that makes for less contact stress throughout the knee. Its technology creates a material that is stronger and more durable than polyethylene implants.
About Dr. H. Kurtis Biggs, Board-Certified Orthopaedic Surgeon:
After completing an orthopaedic surgery residency and then fellowship in joint replacement at the world renowned Cleveland Clinic Foundation, Dr. Biggs entered into private practice in Massillon, Ohio. His joint replacement practice quickly grew to well over 400 joint replacements per year. The practice developed into a tertiary referral center for other orthopaedic surgeons who utilized Dr. Biggs' expertise in revision joint reconstruction surgery. He was instrumental in the development of two, hospital-based, joint replacement centers as well as providing daily education for orthopaedic surgery residents.
During his time in Ohio, Dr. Biggs served as a national instructor for orthopaedic surgeons, teaching and developing their surgical skills utilizing minimally invasive joint replacement. His practice also served as a site for multicenter investigational studies for developing new implants and procedures.
He continues to serve as a national instructor for knee and hip replacement including hip resurfacing surgery. He serves as an advisor for developing new technologies in joint replacements as well as collecting information on patient satisfaction and surgical outcomes.
To find out more about knee replacement surgery, or your other orthopedic needs, please call The Joint Replacement Institute at (239) 261-2663
JOINT
1250 Pine Ridge,
Suite #203,
Naples, FL 34108
(239) 261-2663