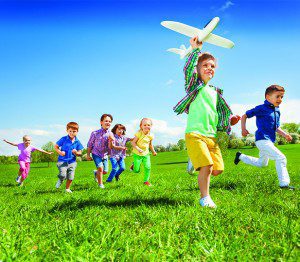 As adults, parents and grandparents, we want our children to get good educations. To have friends and successful careers. To be happy, safe and secure. To build a firm spiritual foundation. For them to contribute to society. Above all else, we want them to enjoy the good health that makes everything else achievable.
Sadly, there is an epidemic affecting American kids today the likes of which have never been seen in history: obesity. According to the U.S. Centers for Disease Control and Prevention, nearly 18 percent of children age 6 to 11 are obese; 21 percent of those age 12 to 19 fall are considered obese.
In 2012, more than one third of American children and adolescents were overweight or obese, meaning that they had excess body weight or excess body fat. Numerous factors play a role in overweight/obesity, including time spent in front of a screen, activity levels and diet. Regardless, as parents and adults, it is our responsibility to help our children maintain a healthy energy balance.
Even though the U.S. is an agriculturally rich country – one of the Top 4 food exporters in the world – most U.S. youth do not:
• Consume the recommended 2.5 to 6.5 cups of fruits and veggies daily
• Don't consume the recommended amount of whole grain (2 to 3 ounces) daily
• Take in far too much sodium in the form of fast and processed foods
• Consume way too many calories from nutritionally deficient foods (such as soda, fruit drinks, deserts, pizza and whole milk)
• Get enough water because they drink far too many full-color soft drinks
Time for change
It is time for a change. Because kids watch – and copy – everything their parents do, the first step to healthier kids is healthier parents. Here are some simple steps to a healthier family:
• More activity. Kids ages 6 to 17 need 60 minutes of physical activity a day, five days a week. This activity does not have to happen all at once, but it should become a habit. Find fun things to do with your kids:
– Go for a run. Bike around the neighborhood. Walk the kids to school. Hike our beautiful state.
– Park farther away from the grocery store, the toy store and so on.
– If your children are a little older, take them to the gym with you.
– Play a game of H-O-R-S-E.
– Toss a baseball.
– Garden together.
– Invest in a jump rope.
– Have exercise contests. How many sit-ups, pushups, pull ups, jumping jacks can they do? How many can you do? Build on each achievement.
– Invest in a pedometer for you and your kids. Girls should get 11,000 steps a day; boys should aim for 13,000!
• Limit time spent watching TV, playing video games, on the computer, tablet or smart phone. Experts recommend no more than two hours a day. Less, of course, is better.
• Turn off the TV during mealtimes so you can focus on the meal and one another. Talk, share, laugh and enjoy.
• Talk to your child's doctor. He or she will have great recommendations to help you and your child. If appropriate, your provider may refer you to a dietitian, who can be a tremendous resource.
• Eat better. There are a thousand online resources and hints for healthier eating. The U.S. government's MyPlate.gov is a great resource for parents, grandparents and educators.
Healthy snack ideas
To get you on your way, here are some healthy after-school snack ideas to try:
• Fruit Smoothie: Puree 1 cup of reduced fat or fat-free vanilla yogurt with 1 cup of frozen strawberries, a frozen banana and ¼ cup of orange juice in a blender until smooth. Divide and serve.
• Nutty Pretzel Wands: Spread peanut butter on the top few inches of pretzel rods. Roll in chopped peanuts, chopped almonds or dried fruit.
• Banana Chips: Slice a banana into 1/8-inch thick rounds and place on a greased baking sheet. Bake at 200 degrees until golden, 2 to 3 hours. Remove from oven and let harden at room temperature. Store in airtight container.
• Peanut Butter Cereal Drops: Combine 1/3 cup honey, ¼ cup peanut butter and 2 TBS butter in small saucepan. Heat, stirring until smooth. Add 1 cup rice cereal, 1 cup old-fashioned rolled oats and ¼ cup dried fruit. Drop into mini cupcake liners. Refrigerate until set, about 15 minutes.
• Frozen Fruit: Peel and slice two bananas into ½-inch thick slices. Place on rimmed baking sheet. Wash two cups of red seedless grapes, 2 cups of green seedless grapes. Place on baking sheet and freeze, about one hour. Divide into four servings.
• Homemade Applesauce: Peel, core and slice 4 pounds of apples such as McIntosh, Gala or Braeburn. Place in large pot and add ¼ cup lemon juice and 1½ cup water. Bring to boil over high. Reduce heat and simmer until apples are very soft, 25 to 30 minutes. Mash apples with a potato masher or process in blender. Add brown sugar to taste.
• Cracker Snackers: Spread reduced-fat cream cheese and your favorite flavor of jam on a reduced-fat Ritz cracker. Top with a second cracker. Or, layer Nutella and bananas on graham crackers.
• Nut Snacks: Nuts are packed full of fiber and beneficial nutrients. These cinnamon pecans will be a healthy hit with your kids. Beat an egg white till frothy. Coat pecans and roll into a mixture of sugar substitute and 3 tsp. of ground cinnamon. Place on a rimmed baking sheet coated with cooking spray. Bake uncovered at 325 degrees F for 20 minutes, stirring once. Cool completely and store in airtight container.
• PB Banana Rollup: Spread peanut butter on a wholegrain tortilla, add a sliced banana, and roll!