By Andrew K. Weitzel, D.O., FACOS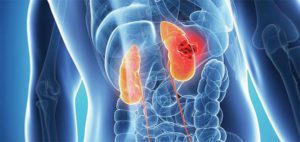 The kidneys are a major part of our detoxifying system. These two small bean-shaped organs clean the blood and filter waste products and toxins from the body through the urine. Kidney cancer is one of the ten most prevalent cancers.
The symptoms of kidney cancer often go unnoticed or don't begin to show until the tumor(s) has grown. However, some of the key indicators are as follows:
• Blood in the urine
• Fatigue
• Loss of appetite
• Weight loss
• Fever or infection
• Swollen abdomen
• Lump on the side of the abdomen
(with or without pain)
• Anemia
• Swollen legs and ankles
• Chronic inflammation
• High blood pressure
• Shortness of breath
If you have symptoms or your physician finds a lump during a physical examination they will order diagnostic testing such as a renal arteriogram, MRI, CT Scan, blood and urine analysis, and a needle biopsy may be necessary.
There are some increased risk factors, which make some individuals more susceptible to renal cancer. The risks factors included:
• Being over the age of 40
• Being male
• Being black
• Smoking
• Obese
• Overuse of NSAIDs and other prescription
medications
• Family History
• Chemical Exposures
• Kidney disease
Most kidney cancer appears first in the tubules of the kidneys. When the malignant cells form a tumor(s) the growth rate is typically slow, so the likelihood of an early diagnosis is increased and the treatment can usually be performed before the tumor has metastasized into any other organs.
Treatment
Depending on the stage and size or the tumor(s), your physician will develop a specific treatment plan tailored to your needs.
Typically, performing a nephrectomy treats kidney cancer. They are three main types of this surgical option the first is a Partial nephrectomy, which removes the tumor and some of the surrounding tissue. The second is a Simple nephrectomy, which removes the entire kidney and the third treatment method is a Radical nephrectomy, which removes the kidney, adrenal glands, lymph nodes, and any questionable surrounding tissue margins. These procedures can usually be done laparoscopically, robotically, or open. Some patients may also require radiation or chemotherapy treatment.
To schedule your urology appointment today, please call (941) 625-1550.
ANDREW K. WEITZEL, D.O., FACOS
Dr. Weitzel received his degree from Michigan State University College of Osteopathic Medicine, completed his internship and general surgery residency in Michigan and his Urology residency at University of Medicine & Dentistry of New Jersey. He is board certified and a fellow of the American College of Osteopathic Surgeons. Dr. Weitzel has been proudly practicing in Port Charlotte, Florida since 2006.
Dr. Weitzel is affiliated with multiple hospitals in the area, including Fawcett Hospital, Englewood Hospital, and Bayfront Health Park (Port Charlotte and Punta Gorda). He is also affiliated with Gulf Point Surgery Center.
Dr. Weitzel's areas of special interest are urologic oncology, kidney stone disease, prostatic hypertrophy, voiding dysfunction and urinary incontinence.
Dr. Weitzel has been chosen for the Choice Awards yearly since 2009. He sees patients at both Port Charlotte and Englewood offices.
Gulf Cost Urology
21260 Olean Boulevard
Suite 202A
Port Charlotte FL 33952
941-625-1550
www.gcurology21c.com