By Hoglund Family Hearing and Audiology Services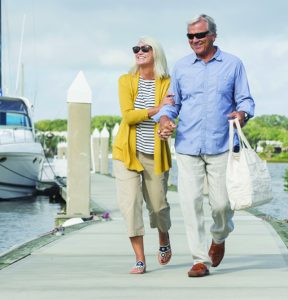 "How well you hear can influence many aspects of your health and wellness", states John Hoglund BC-HIS, ACA of Audiology Centers of Hoglund Family Hearing." There is an increasing body of evidence that people with untreated hearing loss, may also experience a reduction in the quality of life, and put them at a much higher risk of negative health consequences!" Untreated hearing loss is defined as a measurable amount hearing loss without the regular use of hearing instruments. One study reported that untreated hearing loss may shorten life expectancy as much as smoking! Hearing loss that is often, denied, ignored, or minimized by Patients, can have tragic consequences for the hearing impaired. The risk of cognitive issues such as Dementia and Alzheimer's Disease double with MILD untreated hearing loss, and the risk of falling triples! These risk escalate as the untreated hearing loss worsens. "This is no laughing matter," John remarks, " yet it is not being taken seriously by the hearing impaired and their families, that may joke about the goofy responses their family member gives when the misinterpret what is said to them, and sweep these obvious signs of hearing loss under the rug, without even scheduling a hearing test to keep track of their condition! "John's wife Patricia Hoglund adds, "Since hearing tests are usually not part of an annual physical, people often go far too long between hearing tests!" She adds, "Our clinics all offer comprehensive hearing evaluations, with no cost or obligation, because it is so important to always know where you stand. All it will COST is a little of your time… but the knowledge you receive may be PRICELESS!"
When was the last time you and your doctor talked about your hearing?
The fact is, only about 3 in 10 adults who had a physical exam in the last year say it included a hearing screening, according to research conducted by the Better Hearing Institute (BHI) in Washington, D.C.. That's a shame, because research shows that hearing health is more closely tied to whole health and quality of life than previously understood—which means that diagnosing and treating hearing loss early may be beneficial on many fronts.
1.    Hearing loss has been linked to other significant health issues. In recent years, a flurry of studies has come out showing a link between hearing loss and other health issues, including depression; dementia; cardiovascular disease; diabetes; moderate chronic kidney disease; rheumatoid arthritis; sleep apnea; obesity; an increased risk of falls, hospitalization, and mortality; and cognitive decline. With so much new and emerging research, it makes sense for people to talk with their doctors about their hearing as a routine part of their medical care, or seek out a local Audiologist or hearing specialist in the area.
2.    Addressing hearing loss often has a positive impact on quality of life. Most people who currently wear hearing aids say it has helped their general ability to communicate, participate in group activities, and their overall quality of life, according to BHI research. The research also shows that people with hearing loss who use hearing aids are more likely to be optimistic, feel engaged in life, get more pleasure in doing things, have a strong social network, and are more likely to tackle problems actively. Many even say they feel more confident and better about themselves because of using hearing aids.
3.    Leaving hearing loss untreated may come at a financial cost. Most hearing aid users in the workforce say it has helped their performance on the job. In fact, BHI research found that using hearing aids reduced the risk of income loss by 90 to 100 percent for those with milder hearing loss, and from 65 to 77 percent for those with severe to moderate hearing loss. People with untreated hearing loss can lose as much as $30,000 in income annually, the BHI research found. Health care spending may also be affected. For instance, older middle-aged adults (55-64) with diagnosed hearing loss had substantially higher health care costs, according to a study published in JAMA Otolaryngology–Head & Neck Surgery, indicating that hearing loss may place patients at risk for increased health care use and costs. The study authors suggested that early, successful intervention may prevent future hearing-related disabilities and decreased quality of life.
"Patricia and I have dedicated our lives to educating the public about hearing loss for over 30 years. We are blessed to have an excellent staff of Doctors of Audiology, Clinically Certified Audiologists, and Nationally Board Certified Hearing Instrument Specialists who will answer families!" PLEASE CALL one of our Clinics to arrange for a FREE "BASELINE Hearing Test" and you will receive a dated copy for your personal medical files!
Hoglund Family Hearing And Audiology Center
Fifteen 8th Street, Suite B (Next to Royal Scoop Ice Cream)
Bonita Springs, FL 31434
239-494-8651
Southwest Florida Tinnitus And Hearing Center
10020 Coconut Rd. Ste.120 (Next to LabCorp)
Estero, FL 34135
239-494-8652
Hoglund Family Hearing And Audiology Center
88 Pine Island Road, Suite 3 (Inside Tucker Vision Center)
North Fort Myers, FL 33903
239-908-0799
AUDIOLOGY CENTERS OF HOGLUND FAMILY HEARING
13710 Metropolis Ave.Suite 101
(One block west of Gulf Coast Hospital)
Fort Myers, Fl. 33912
239-208-6827