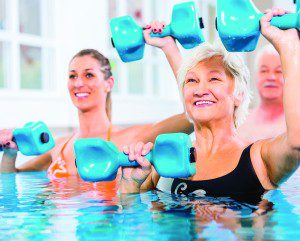 Good balance and coordination allow you to move efficiently and safely through your environment. Many people struggle with poor balance, and the sad truth is that we see many of them only after they've experienced a fall. As we age we often find that we simply don't move as easily and safely as we used to. Balance problems can be due to many issues, alone or together:  leg weakness, pain, stroke, Parkinson's disease and reduced mobility just to name a few. What we don't realize is that in many cases balance can be improved and should be BEFORE a fall takes place!
However, by incorporating appropriate balance exercises, physical therapists are trained to enhance your response to the external environment, improve your safety, and decrease your risk of falls.
We are often surprised by how many people don't realize the benefits of aquatic therapy for non-surgical impairments. We would like to take this opportunity to educate people on how the pool can help with poor balance and/or coordination. And, no, swimming is not required.
The warm pool water promotes improved flexibility, and the buoyancy of the water allows patients to safely challenge their balance – giving them an opportunity to remember how to move and to strengthen into those motions. Therapy goals will be practical – we want our patients to be as safe and independent as possible. For example, if you struggle with balance you will probably not be jogging in the pool. However, they may expect to work on functional tasks such as vacuuming, reaching overhead, safer walking – things that you can carry over onto land that will make your life safer and easier.  And, perhaps more importantly, water can be fun!
As mentioned before, Parkinson's Disease can be a contributing factor to poor balance. For those that are familiar with this disease, you realize the importance of maintaining an active lifestyle and focusing on maintaining and improving mobility. Aquatic therapy can help with this. With specialized therapy focusing on rhythm, visual compensation, and in some cases, partner therapy, therapist can provide interventions to help you maintain your independence.
Aquatic Therapy F.A.Q.'s
Do I need to know how to swim?  Don't worry if you can't swim! The vast majority of aquatic therapy is done with our patients standing and water safely below neck level. More importantly – your safety is our primary consideration. Only aquatic appropriate patients get in the pool and our therapists will not hesitate to get in with you if you have any concerns.
Can I have just aquatic therapy?  Therapists develop a plan of care that will best achieve your goal. For some people that involves a combination of aquatic and land based therapy.
Who are the therapists and did they get special training?  The aquatic therapists and assistants have had specialized training in aquatics as well as hundreds of pool hours.
How do I know if aquatic therapy is for me?  Those patients who are considering aquatic therapy should call to schedule a therapy screen.
This complimentary screen will give you time to meet with an occupational or physical therapist to discuss if land and/or physical therapy is a good option. Once the screening is completed, patients need a physician's order for therapy services.
Freedom Rehab
941-400-1505
3545 Massini Ave., North Port