Courtesy of Personalized Retina Care of Naples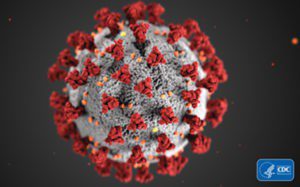 Viral forms of conjunctivitis, (pink eye) are the most common forms of the eye infection, and the most contagious. Conjunctivitis causes watery discharge and redness to one eye, which sometimes infects the other eye. It can also cause thick mucus in the eye that crusts over and you might feel swollen lymphnodes and fatigue as the virus becomes worse.
The American Academy of Ophthalmology is sharing important ophthalmology-specific information related to the new coronavirus, referred to as "2019-nCoV," or simply the "Wuhan coronavirus."
Coronavirus and the eyes:
Anecdotal reports suggest the virus can cause conjunctivitis and possibly be transmitted by aerosol contact with conjunctiva. If you have conjunctivitis, along with respiratory symptoms, or if you who have recently traveled internationally, or have travelled to China or with family members recently back from China, seek immediate medical care.
The American Academy of Ophthalmology and federal officials recommend protection for the mouth, nose and eyes when caring for or coming in contact with individuals that are potentially infected with 2019-nCoV.
Coronavirus Details
The 2019-nCoV virus causes severe respiratory infections, including pneumonia. A significant number of fatalities have already occurred. Patients present with respiratory illness, including fever, cough, shortness of breath and conjunctivitis. Severe complications include pneumonia. These can appear as soon as two days or as long as fourteen days after exposure.
Among the newly published literature on coronavirus is a paper in The Lancet suggesting patients may be infectious to others even before they experience symptoms of infection. The virus appears to be spread via respiratory droplets. It also could be spread if people touch an object with the virus and then touch their mouths, noses or eyes.
In fact, the physician whistleblower of the new severe cases of coronavirus was a Wuhan ophthalmologist who apparently contracted the virus from a glaucoma patient he examined.
Ophthalmology ties
Because anecdotal reports suggest the virus can also cause conjunctivitis, it is possible that it is transmitted by aerosol contact with conjunctiva. While conjunctivitis is an uncommon event as it relates to 2019-nCoV, other forms of conjunctivitis are common. Affected patients frequently present to eye clinics or emergency departments. That increases the likelihood ophthalmologists may be the first providers to evaluate patients possibly infected with 2019-nCoV.
If you believe you have any of the symptoms of coronavirus, please inform the staff so health care providers will take precautions to not infect others via cross contamination.
Ask Yourself?
1. Do I have an eye infection (conjunctivitis)?
2. Do I also have respiratory symptoms?
3. Has anyone I've been in contact with recently traveled internationally?
4. Does their international travel include a recent trip to China or with family members recently back from China?
The Centers for Disease Control and Prevention is urging health care providers who encounter patients meeting these criteria to immediately notify both infection control personnel at your health care facility and your local or state health department for further investigation of 2019-nCoV.
If you are experiencing any changes in your eye health, whether it is blurry vision, pain, impaired vision, or any other visual irregularities, it is imperative that you see an ophthalmologist right away. The earlier disease or disorders are detected, the better the outcome and treatment options are for you.
Personalized Retina Care of Naples provides incomparable diagnosis, medical and surgical treatment for eye conditions and disorders. Dr. Taba is a Board-Certified Ophthalmologist and is Fellowship trained in surgical and medical retinal diseases. She is also available for second opinions and generally can provide same-day appointments.
There are ways to regain your independence and correct low vision. To find out more, or to schedule your appointment, please call (239) 325-3970 today.
CDC 2019-nCoV Resources
• 2019 Novel Coronavirus, Wuhan, China
• General information for health care professionals
• Interim Guidance for Health care Professionals
• Resources for Hospitals and Health care Professionals Preparing for
Patients with Suspected or Confirmed 2019-nCoV
Personalized Retina Care
www.retinanaples.com
239-325-3970
3467 Pine Ridge Rd., Suite 103, Naples 34109