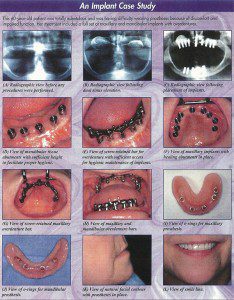 Many patients have heard of dental implants even though they may not undertand what they are. Rarely, however, do patients know the significant benefits to their health and well-being that implants can provide.
The first step in discussing implants with patients is to educate them about these very real benefits.
• Bone Resorption and Esthetics
• Patients who have lost several or all of their teeth probably do not realize that bone loss will likely follow tooth loss. Facial changes that can occur because of alveolar bone loss include:
• Prognathic appearance.
• Decrease in the horizontal labial angle.
• Thinning of the lips, especially in the maxilla.
• Deepening of the nasal labial groove.
Many patients are familiar with the "sunken" appearance of older edentulous patients. What they don't know is that dental implants can help stop this type of bone loss and can actually preserve bone. In one five-year study, patients with full dentures lost 5.2mm of mandibular bone while patients with implant-supported over dentures lost only .6mm.
Bone resorption is not just an esthetic problem. As it escalates, it can also pose a risk for fractures of the jawbone.
Function and Health
We often tell patients that dental implants restore the function that they enjoyed with their natural teeth. The significance of this benefit can be more thoroughly appreciated when we see its relationship to long-term health.
A study conducted on patients with complete removable dentures found that:
• 29% could eat only soft foods.
• 50% avoided some foods.
• 17% ate better without their dentures.
These statistics are supported by another study that looked at masticatory performance. Fifty percent of patients with clasped partials chewed no better or chewed worse than they did without their partials. Patients without full dentures had an average masticatory efficiency of only 60%.
This impaired function can have a major effect on long-term health. Research shows that people with complete dentures use 17% more drugs – including 28% more for gastrointestinal disorders – and have a 10-year shorter lifespan. Many of these complications can be related to compromised nutrient intake because of food avoidance and the lack of ability to chew food efficiently.
Quality of Life
Dental implants address quality of life issues that are very real to patients who have had discomfort, embarrassment and/or increased self-consciousness because of unstable dentures and partials. As the patient story that appears in this issue relates, many patients find their social interactions and pleasures in life compromised by unstable prostheses.
Dental implants offer a permanent solution for these patients. The goal of implant dentistry is to restore the comfort, esthetics and function that patients enjoyed with their natural teeth.
Making the Case
Having patients reach a good level of understanding about dental implants is not the only factor determining the outcome for case acceptance. Implant case acceptance is affected by the attitude of the entire dental staff. If a patient asks, "Do you do implants?" the answer should be a resounding "Yes!" by everyone in your office.
Following are some common questions patients ask about dental implants.
Q. Do you do implants?
A. Yes! Dr. Stacey Vlachos was trained by and practiced for over ten years with the world's foremost implantologist, Dr. Carl Misch. Dr. Vlachos is among the leading implantologists in the country. He has earned a national reputation for his clinical excellence and technical expertise. Dr. Vlachos has limited his practice to the field of implant dentistry for over thirty years.
Q. What is a dental implant?
A. A dental implant is a synthetic-man-made replacement for natural tooth root that's been lost. Implants offer you the most permanent and secure solution for replacing one or more teeth. Dental implants allow people with removable dentures, partials and bridges to return to having fixed, non-removable teeth.
Dental implant treatment involves two phases: placement of the implant(s) and placement of the restoration(s) such as crowns, bridges and dentures.
Q. What are the benefits of dental implants?
A.  Dental implants are today's best substitute for your natural teeth. They re-establish the comfort, esthetics and function that you enjoyed with your natural teeth. Implants allow you to:
Eat whatever you like. This is important not only for enjoying the foods you eat but also for long-term health. Studies show that people with compromised eating habits caused by unstable or uncomfortable dentures have more health problems, especially gastrointestinal, later in life.
Smile and speak with confidence. Patients who have been self-conscious because of dentures that slip or because of impaired chewing ability often avoid social situations. Many of our patients tell us that implants have changes their smiles, their overall appearance and even their lives
Preserve your facial structure. Many people do not realize that tooth loss can lead to bone loss, often resulting in a "sunken" appearance around the mouth. Implants help stop the bone loss that can occur when teeth are lost.
Q. Are they expensive?
A. There is a greater initial investment for dental implants than for other options, but independent surveys of implant patients show that they felt it was worth every penny.
 
Q. Can anyone have dental implants?
A. Anyone whose health is stable can have dental implants. Age is not a factor. Many patients are will into their 70s when they receive implants. Uncontrolled disease – such as uncontrolled diabetes – is the only limitation since it could affect healing.
Q. Does it hurt?
A. There is very little discomfort. Patients are given preoperative medications to control discomfort. During the procedure the doctor uses IV sedation and anesthesia to assure patients' comfort.
When patients leave the office, they are given medication should they need it. Most patients don't even miss a day of work afterward.
Q. Are dental implants successful?
A. Dental implants are highly successful. The products and techniques we use today provide very predictable results.
Conclusion
The significant advantages of dental implants make them a valuable and appealing option for many patients. We hope you've found this information to be helpful.
If you would like Dr. Vlachos or Dr. Davis to consult with you on implant treatment, please give our office a call. We will be happy to arrange for the consultation. We look forward to hearing from you regarding any questions or concerns.
Sincerely, Dr. Stacey Vlachos and Dr. Troup Davis
A Patient's Perspective
We asked the patient whose case study appears in the article to share her experience. This is her story.
Prior to having implants, I had worn dentures for 45 years. I could not eat. I couldn't bite – even a peanut butter sandwich. I had to press and pull that kind of thing. It was depressing.
My teeth used to fly out too, and that was a horrible experience. I remember the day of our housewarming. I was introduced to the potential husband of my daughter's friend. As we were chatting away, my denture just flew out. I reached up and batted it! It was horrible, but it was nothing new.
Now I can eat like a normal human being. I don't have to be embarrassed about eating or speaking in public. It's a good feeling.
One thing kind of struck me. I was going to take my grandkids to Cedar Point, and I thought, "My gosh! I can actually go on a ride without worrying about my teeth falling out!" I can even whistle now. I could never do that before.
I am very happy. Implants have made my life better. I would definitely recommend them to anyone. Anyone who doesn't do it is depriving himself of, well, life. And the earlier the better. I mean, why suffer?