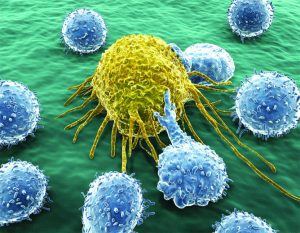 Immunotherapy, an approach to cancer treatment that uses the body's natural defenses, has been around for decades; however, the early forms of this type of treatment were very toxic and did not result in the desired outcomes for most patients. In the past 10 to 15 years, as researchers have learned much more about the genetics and mechanisms of cancer cells, advances have been developed that are causing great excitement and that are credited with helping many patients realize amazing results with certain types of cancer.
How does immunotherapy work?
The immune system consists of several organs, special cells and other substances that help your body fight germs, infections and diseases. It naturally recognizes abnormal substances in the body and raises an alarm, causing the immune system to attack the foreign bodies. For example, germs contain certain proteins that are not normally found in the body and so the immune system targets these foreign proteins and eliminates them.
However, the body's natural defense system has a harder time targeting cancer cells because sometimes the malignant cells are not very different from normal cells. Other types of cancer have a mechanism that helps the mutated cells "hide" from the immune system. In immunotherapies, researchers have discovered drugs that boost the immune system and help it recognize cancer cells more easily so it can attack and destroy these cells.
What are the types of immunotherapy?
According to the American Cancer Society (ACS) there are various immunotherapies that are proving to be very effective. These include:
Monoclonal antibodies (mAbs) are laboratory-made substances that can attach to cancer cells, so the immune system can recognize and destroy them.
Immune Checkpoint Inhibitors are a type of monoclonal antibodies that use "checkpoints" – molecules on certain immune cells that need to be activated (or inactivated) to start an immune response.
Non-specific immunotherapies, including Interferons and Interleukins, also help the immune system destroy cancer cells.
Oncolytic virus therapy uses genetically altered viruses to attack and kill cancer cells. The first of these was approved in 2015 for use in treating melanoma.
CAR T-cell therapy uses T-cells (a type of white blood cell) drawn from the patient. These are altered in the laboratory to recognize and destroy cancer cells, and then returned to the patient's body. T-cell therapy is not yet approved for widespread treatment. Only two CAR T-cell therapies have been approved for use in the U.S. One is used for advanced or recurrent acute lymphoblastic leukemia in children and young adults. The other is for certain types of advanced or recurrent large B-cell lymphoma. More are currently being studied in clinical trials.
Vaccines have been developed for both prevention and treatment of cancer. Most treatment vaccines are still in clinical trials. Several prevention vaccines are in use today, helping to prevent cervical cancer, and Hepatitis B, which can cause liver cancer.
Immunotherapies are transforming patients' lives.
For patients with certain types of cancer, such as melanoma, bladder, renal cell carcinoma (a type of kidney cancer), head and neck cancers, some types of leukemia and lymphoma, and lung cancer, immunotherapies are already producing encouraging results, and some are even being called a possible cure. In addition, new research is moving forward rapidly to find immunotherapies that will be effective against more types of cancer.
Clinical Trials Lead to Tomorrow's Treatments and Cures
Through a strategic partnership with Sarah Cannon, one of the world's leading clinical trial organizations, FCS offers more access to national clinical trials than any other oncology practice in Florida. In the past three years, the majority of all new cancer drugs were studied in clinical trials with FCS participation, prior to approval.
Florida Cancer Specialists treats patients with all types of cancer, and offers a number of services, such as an in-house specialty pharmacy, an in-house pathology lab and financial counselors at every location, that deliver the most advanced and personalized care in your local community.
Florida Cancer Specialists
For more information, visit FLCancer.com

Bonita Springs
9776 Bonita Beach Rd SE,
Suite 201A
Bonita Springs, FL 34135
Naples – Napa Ridge
6360 Pine Ridge Road,
Suite 201
Naples, FL 34119
Naples – Sierra Meadows
8350 Sierra Meadows Blvd
Naples, FL 34114
Naples West
681 4th Ave North
Naples, FL 34102
Naples – Goodlette
1100 Goodlette Road
Naples, FL 34102