By Bert Shubert, Certified Personal Trainer –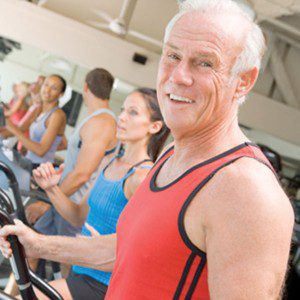 Happy New Year, It's the start of a New Year and most of us made some kind of New Year's resolution. A lot of us made promises that we would get in shape, lose a few pounds and become more active. Well, guess what? It's been almost a month and if you're sitting on the couch eating bonbons, it's not too late.
The first thing people do is join a gym. (Joining a gym does not make you lose weight, the proper workouts do.) They go to the gym once or twice a week for three or four weeks, they don't see results and quit. You did not gain the weight in three or four weeks, so why do you think you can lose the weight in the same time frame. Losing weight and working out takes commitment. You need to be accountable to someone other than yourself.
After joining a gym you need a workout buddy, personal trainer or just someone that will keep you on track. Everything you eat needs to be recorded. Write it down on paper keeping track of every single calorie. There are also apps for keeping track of calories, exercise and your progress. My Fitness Pal is a free app that works very well and it's free. Remember that one or two pounds a week is an acceptable and realistic weight loss. Now, if you don't lose that amount of weight don't give up, the weight will come off. Don't quit because you gain a pound or two, the weight will come off with the proper diet and exercise.
If you follow the above recommendations and are still having trouble losing weight, contact Progressive Health and Racquet Club and set up a free assessment. We will go over everything you are doing and help you get that stubborn diet working again. You do not have to be a member to use this free service.
If after your assessment you try this by yourselve and fail, come back in again, our personal trainers are here for you. They are experts in weight loss with three different weight loss programs and one of them is right for you.
Bert Shubert is a Certified Personal Trainer. He is certified by the Cooper Institute of Dallas, Texas. As a power lifter, Bert has placed in many state, national and international competitions. He has trained numerous bodybuilders, power lifters, as well as hundreds of general conditioning and weight loss clients. His clients have ranged in age from 12 to well in their 80's! Bert coached Junior High and High School football for over 10 years as a Head Coach and Assistant Coach. He was a strength coordinator for two different high schools. Bert retired as a police officer in 2001 and moved to Port Charlotte that same year. Bert started at Progressive in 2004 and has since been promoted to Manager. He and his wife Connie have a son Eric. They have two beautiful grand-daughters, Isabella and Maya. Bert is also a huge Ohio State Fan, Go Buckeyes!
Progressive Health and Racquet Club
941-743-8700
www.progressivehealthplex.com