By Arietta Living
Older adults living at home or in a senior living community often face health challenges. Memory loss from Alzheimer's or other forms of dementia, depression and physical ailments can make it hard to enjoy the gifts of music.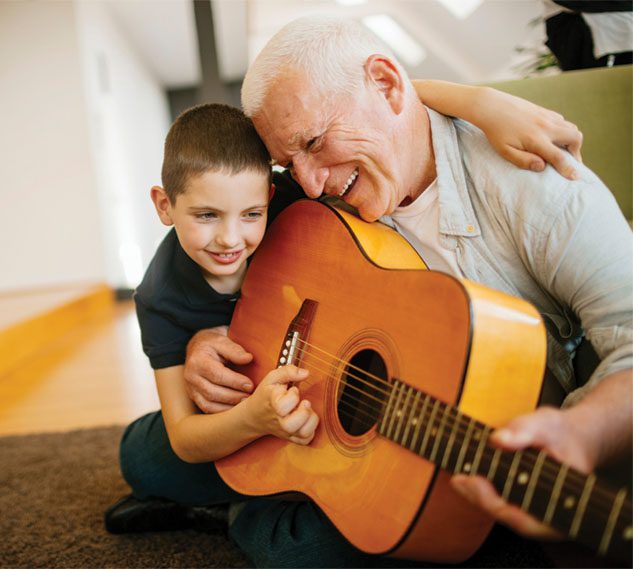 Let's look at how music can enrich your loved one's mind, body and overall well-being.
Music for the mind Improves memory
Ever forget your car keys, phone or the reason you walk into a room? Imagine how scary it can be when memory loss is a constant companion. For people who are affected by Alzheimer's or dementia, it's become known that memory loss can be slowed by listening to music. Remembering familiar music and related events is one of the few areas untouched by dementia.
Lightens mood and relieves stress
Research has shown that music can lower depression, anxiety, blood pressure and relieve stress. It may seem like a "no-brainer," but in the busy life of a caregiver, you may forget how music can help mom and dad to feel more at ease and boost their mood.
Be sure to match the right kind of music to the situation. Soothing music aids in relaxation and sleep. Just remember that if headphones are used, make sure the music is at a comfortable volume.
Keeps the brain young
Along with memory improvement and a lifted mood, music also assists in increased cognitive function and encourages engagement. Similar to a physical workout, processing music gives the brain its own workout.
In addition, learning to play a musical instrument later in life may help prevent dementia and other cognitive declines.
Music for the body
A natural pain reliever
Pain is a common concern during the aging process, but melodies that make individuals feel good can also help relieve pain, lessen the need for medication and enhance quality of life. Music distracts from negative feelings and has a positive effect on the area of the brain that controls those senses.
Dance to the music
Exercise such as walking or yoga can improve endurance, flexibility and balance, yet it's widely known that dance is an excellent option as well since it utilizes both physical and mental capacities.
Dancing is often executed with a partner or as a group. Your loved one can enjoy social time while they move to the beat and those who can't stand can still move their arms and hands to elevate their energy.
Here are some fun ideas to incorporate music into your loved one's activities:
• Attend a live performance. Senior living communities offer live shows and activities to dance and sing along.
• Online vendors such as Amazon offer CDs and digital downloads of some of the greatest songs from different eras.
• Gather together with the rest of the family for a sing-along of favorite tunes. During a road trip, iheartradio.com offers great on-the-go selections.
• If your loved one lives in a senior living community, ask the community if they offer music therapy. Many communities incorporate music therapy as an integral part of their residents' lifestyles.
• Encourage your loved one to learn to play an instrument. Drums are a popular choice for older adults. Research local drum circle groups in your area.
What are some of your favorite songs? What are the ways you like to enjoy music?
Discover the Arietta Lifestyle
Life is a musical journey. Arietta offers independent living in Sarasota, FL for adults who are ready for their next adventure in life. Much like notes on a page that guide music, Arietta (meaning melody) guides you through a life of purpose and passion. Spacious layouts and modern amenities welcome you home to a lifestyle designed your way. Focus on your best life without worry.
ARIETTA
Call 941-479-3525 or visit www.ariettaliving.com