Written by, Christi L Bryant, Realtor with Assist Seniors Group with Keller Williams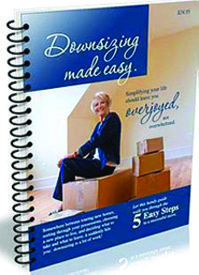 "There's no place like home, there's no place like home, there's no place like home." How true are those famous words from so long ago?  Dorothy was right, NOTHING is like home.  For many of us, home is our safe-haven, sanctuary, largest or only investment, and pride and joy. Where our most precious memories are created.  One thing I am constantly asking myself and clients…is your home still right for you, or more importantly, is it still safe for you?
Life is a wonderful twister and as we "ride the winds" through our many phases and life chapters, we should always be asking ourselves or, in many cases, our loved ones the following three questions whether owning or renting.
1.    Is this house still physically right for me? Per National Association of Realtors® a person or family may move on the average of every 7 years for varied reasons.  One may decide their home is too small and they upsize, or vice versa.  However, health concerns such as physical mobility issues tend to be one of the most common issues such as needing a ramp for wheelchair or walker access.  Difficulty in common/daily activities such as where your laundry room is physically located; for example, in the garage or in a basement may be a consideration or factor in deciding if a house is physically right for you.  Other factors such as not having central air is most definitely a concern in Southwest Florida.  Do you live in a second floor condo with no private or common elevator? If you are having difficulty in climbing the stairs on a daily basis, then, it may be time to consider "resizing" to a first floor condo or attached villa.  Physical size or design of the home may also be an issue.  Is it a two-story home where all bedrooms are located on the second floor, again, making your daily trip up the stairs unsafe or cumbersome? Do you find yourself only using the same rooms over and over?  Pay attention as you live and use your house daily pay close attention to how you use your home and how much of your home you are using on a regular basis.  Keeping a journal of this is one way to help with your thought process of determining if your home is still physically right for you.
2.    Safety, safety, safety – How safe is my house?  Of course when thinking about safety in a home we tend to think only about protecting ourselves from fire (carbon monoxide & smoke alarms) as well as structural items.  While this is true, there are several other items one should consider with regard to safety.  If you are physically healthy and have great mobility or if you are disabled, the following are key areas to consider when determining if your home is still safe for you and what, if any, modifications may be needed.
a.    Exterior Entrances and Exits
1.    Condition of walkway and drive surfaces – are they even?
2.    Handrail condition – correct height, secured?
3.    Do doors and windows lock correctly and if in a wheelchair, can you reach them safely?
4.    Are bushes and shrubs trimmed to allow safe access?
5.    Is there a working doorbell?
6.    Are the house numbers visible from the street?
7.    Note light level for driveway, walk and porch – make sure these areas have plenty of light.
b.    Interior Doors, Stairs and Halls
i. Note heights of door thresholds, knob/ hinges type – clear width door openings and determine direction door swings. Locks accessible, easy to operate?
ii.    Note presence of floor level changes, loose carpet or tiles, floor surface texture and contract.
iii. Hall width – adequate for walker/wheelchair?
iv.     Stairway and condition of stairs – are they clutter free?
c.    Bathroom
i.    Are hot water pipes covered (kitchen too)?
ii.    Are mirrors hung appropriate sit and stand?
iii.    Are sink basins, tub faucets, shower control and drain plugs manageable?
iv.    Note ability to step in and out of the shower.
v.    Note toilet height – can you sit to stand easily, and safely?
vi.    If needed, is there space for caregiver to assist?
d.    Kitchen
i.    Note overall light levels and task lighting.
ii.    Counter and sink heights – can you easily access everything?
iii.    Is there knee space under the counter for wheelchair use?
iv.    Note stove condition and control location (rear or front).
v.    Is there nearby surface to rest hot food on when removed from oven?
vi.    Is there adequate space to prepare food?
e.    Living, Dining,  Bedroom,  Laundry and
Windows
i.    Chair, sofa, bed heights when sitting or standing?
ii.    Can you safely move around all of the furniture?
iii.    Can you reach the washer/dryer safely?
iv.    Are the opening mechanism for windows
42 inches from floor?
f.    Electric Outlets and Controls
i.  Are there ground fault outlets in kitchen and bathroom?
ii. Light switches at entrance and easily accessible in each room?
iii.    Are there any uncovered outlets or switches?
iv.    Extension cord hazard – don't leave them strung across the floor.
v.    Outdated wiring, over amp age in electrical box?
3.    Financial.  Can you still afford your home? These days many people are living on a fixed income leaving no money for basic repairs, living expenses, insurance, and HOA fees.  I would have to say, above all else, this could be considered, especially our elderly living on fixed incomes, the first item to evaluate.  I understand how emotionally attached we become to our most valued procession…our home.  Maybe the time has come to reconsider downsizing or resizing into either a more manageable home.  Please, don't remain in your home and add financial stress due to the cost of maintaining and living in your home. Don't put a strain on your daily living.  There are many options out there that will allow you to live comfortably safe and happy.
After reading this article you may decide it's time to downsize and you may not know where to begin.  Rest assured that help is available. Please RSVP for our FREE seminar of our program:
"Downsizing Made Easy in 5 Easy
Steps." Complimentary beverages and snacks provided as well as the complete guide of Downsizing Made Easy.
Assist Senior Group
Date:  June 18, 2015
Time: 9:45am – 10:30am
Location: Collier County Public Library
Naples Regional
650 Central Ave., Naples, Florida 34102
RSVP by: June 14th to:
Christi Bryant – (239) 825-9804
Moving should not be overwhelming – but, leave you over-joyed! I want to make sure you feel this way!  Life is fun! Enjoy it!
*Parts of this article were taken from Safe at home checklist by Rebuilding Together.