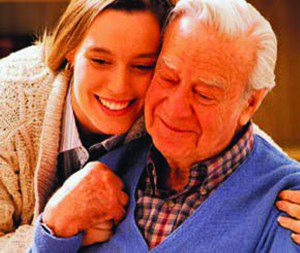 According to AAA, nearly 30 percent of Americans took a holiday trip last season and if trends for the past five years continue, that number is slated to increase.
Among those traveling are adult children visiting their parents' homes. While the holidays are a wonderful time to celebrate family traditions, it is also the perfect time to discuss their current and/or future health care needs.
Beginning the conversation may be daunting, especially for children who may feel their role in the relationship has been reversed as they have taken on increased responsibility for their aging parents. However, please keep in mind that it is far better to develop a game plan before the need arises than to make difficult decisions in the midst of an emergency when options may be limited.
Here are a few suggestions for beginning
the conversation:
1.    Choose a Comfortable Time and Place
Set a time and place that is convenient and comfortable for everyone. Avoid public areas such as a doctor's office or an emergency room. A living room table or kitchen in the family home is often the best option.
2.    Include Other Family Members
Although you may be the primary caretaker, it is very important to involve others who may have a good relationship with your loved such as your siblings. Do not try to do everything yourself. Assemble a team who has your mom or dad's best interest at heart.
3.    Ask About Records and Documents
This topic may be especially emotionally charged but it has to be discussed. It's important to collect basic information about your parent's personal affairs. Is there a will? Are there advanced directives? You'll need to have this information handy should your loved one's health begin to change.
4.    Listen
Remember the conversation is a two-way street. You have to use good communication skills. Be sure to ask open-ended questions that encourage your mom or dad to share their feelings. Be respectful. Their opinions and thoughts matter.
5.    Don't Tell Them What to Do
Resist the urge to take over the conversation and tell your parent what they "will do". Approach the discussion as a concerned partner and not as the person "in charge". No one has all the answers but by working together, a mutually beneficial solution can be developed. Keep in mind that everyone ultimately wants the same thing: a nurturing, caring environment that allows mom or dad to remain as independent as possible.
By having the conversation about your loved one's current and/or future health care needs, you will be better able to seek out resources and put a plan in place, giving you peace of mind as you return home after your visit.
Located at 6945 Carlisle Court in Naples, The Carlisle offers spacious one-and two-bedroom residences include lifetime care and maintenance, weekly housekeeping and flat linen services, basic cable TV, all utilities except telephone, and a complimentary full breakfast plus choice of lunch or dinner in the community's gourmet-style restaurant.
The Carlisle, a luxury, resort-style senior living community in North Naples, offers both Independent and Assisted Living lifestyles. Available on a monthly fee basis, the ECC-licensed and CARF-accredited community boasts a full range of services and amenities including 12-hour restaurant dining, housekeeping, transportation and activities. Located on Airport-Pulling Road, between Pine Ridge and Immokalee Roads, the award-winning community's lush tropical environment is highlighted with meandering walking paths around three lakes and tranquility gardens. For more information or to schedule a tour, please call Director of Marketing Thom Braun at 239-221-0017.
For more information about the community,
please call 239-221-0017 or visit
www.TheCarlisleNaples.com.