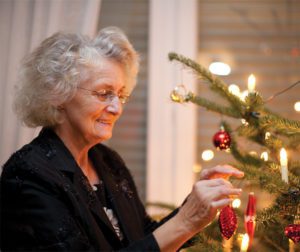 The holidays are filled with lots of activities, family gatherings, social events, and decorations; however, with all of this joyous activity, often comes stress for many people, but when it comes to someone with Alzheimer's or dementia, the effects can be overwhelming. Even though we're all extra busy, it's essential this time of year to be mindful of our loved ones and friends that have cognitive impairments.
Holiday Stressors for People with Dementia
Being around large crowds is difficult for those with dementia. It can make them feel as though they are "on display," and they can become very self-conscious and feel awkward around too many people. Even if it's relatives or friends that they know well, but haven't seen for a while, many individuals with dementia are uncertain if they are "supposed" to know someone, and in an effort to go under the radar, they retreat and can even become combative or extremely despondent and sad.
People with dementia function best in a familiar environment, and changes such as decorations can make a recognizable surrounding seem unfamiliar and can put them in an anxious state. Christmas lights on the tree or on a wreath can also bother someone with dementia. The lights can cast a glow that bothers their eyesight and disrupts their daily routine.
Even if your parent used to love decorating, it's best to leave the decorations to a minimum, or maybe to choose not to have decorations in their presence at all. This is especially true in their bedroom or wherever they spend most of their time.
When you decide to have family gatherings, it's also important to be aware of allowing the person with dementia to retreat to another room if they choose to do so, but they should have their caregiver that they are comfortable with alongside them in these situations, as to not exacerbate their anxiety or depression.
Life in general can be quite scary and strange for those with dementia and Alzheimer's. at this time of year, let's all be extra attentive and sensitive to their needs.
The Crossings at Hancock Creek is an assisted living and memory care community that has offered a variety of services at many different levels of assistance since 2016. Their community preserves the patients' lifestyles and dignity with innovative care. They provide social and recreational programs and much more.
The Crossings at Hancock Creek offers medication management, on-site pharmacy service, quality care plans administered by a licensed nurse and a 24-hour personal care staff to ensure premier care for every patient. They also provide physical, occupational and speech therapy through several agencies. They have the compassion, experience, expertise, skills, and programs to provide the quality care that results in the best possible quality of life.
Please give them a call at (239) 217-5900 to schedule a tour to see for yourself just what makes The Crossings at Hancock Creek so special.
The Crossings at Hancock Creek
3501 Hancock Bridge Parkway
Fort Myers, Florida 33903
239-217-5900
saberhealth.com