By Dr. Christine Davis – Edison State College –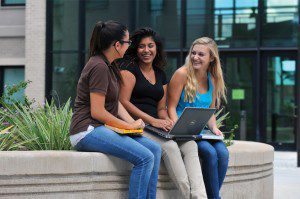 As your son/daughter pre-pares to enter college, you will have plenty of questions.  Which college should they attend?  What should they select as their major?  How will we pay for college?  Luckily, there are many options and resources available to assist in making these decisions.
When deciding on the college that would work best, there are three important things to consider.
The first is cost of attendance. This is more than the tuition rate. Additional expenses like books, lab materials, parking, transportation and housing should be included in your evaluation.  Will your son/daughter live at home (commuting back and forth), on campus, or in an apartment? Also take into account basic living expenses such as food and clothing and compare tuition rates for in-state and out-of-state institutions.
When it comes to college costs, there are several options to help finance their education.  At Edison State College, we strongly encourage all prospective and current students to complete the FAFSA, which is the Free Application for Federal Student Aid and it can be found at www.fafsa.ed.gov.   This site also offers good information about grants, loans and work-study funds.
Additionally, when your son/daughter has selected a college to attend, always explore the website of that institution.  Many have areas dedicated to financial aid and scholarships specific to their institutions, and usually have a 'net price' calculator to help calculate costs.  Most colleges and universities also have a foundation which can assist with scholarships, so it is highly recommended to explore those offerings as well.
If your son/daughter is still in high school, make sure to speak with their high school guidance counselor about scholarship and grant information.  These individuals are a great resource for navigating the college application and cost process.
The second thing to consider when selecting a college is what to study. What does your son or daughter plan to study? What career does he/she have in mind?  Many of the colleges and universities offer specialized and specific training for certain career fields, and if your son/daughter knows what they would like to focus on, narrow your college search to institutions that offer excellent training for that field.   They need to choose a major that upon graduation will have career options and job prospects that offer a great 'Return on Investment' (ROI).   There should be a balance between the salary your son/daughter would like to earn and the level of enthusiasm and interest he/she has in that career.
And finally, the third thing to consider is 'fit'. Once you have found some colleges that will suit the determined budget, and offer the major that your son/daughter wants, the next step is to take the time to visit all of the campuses. Colleges offer open house events and campus tours on a regular basis. By attending events like these, you can get a better sense of the atmosphere, the academic offerings and the student life that is available. While on campus, make sure you meet current students and ask them questions about their professors, the size of the classes and clubs, and activities they enjoy.
A few other things to consider when selecting a college are:
• What services are available to support students?
• What does the institution do to help with student retention?
• What are the graduation rates?
• How long does it take for a student to earn a four-year degree?
What if your son/daughter is truly undecided about a major or career path?
There are additional options to explore, like starting at a two-year institution and then transferring to a four-year college/university. The class sizes tend to be smaller and your son/daughter wouldn't necessarily have to declare a major. You will want to ask about the transferability of credits. If your son/daughter has narrowed the choices and is still undecided, then these questions should help:
• Can I afford this?
• Is this a good investment?
• Is my return on the investment good for me?
• What are my career paths with this choice?
In preparation for that first day at college,  make plans to help your son/daughter set up a budget to help plan for living expenses. This includes things like internet service, cable/TV service, phone service, laundry, food, entertainment, clothing, personal items, car payment/insurance, gas, trans-portation/travel, health insurance and any other expenses your child may have. Some of these expenses could potentially be covered with scholarship money.
College is an exciting opportunity for your son/daughter. Choosing the right one will help your child to fulfill their career goals. As Derek Bok, who was president of Harvard University from 1971-1990 once said, "If you think education is expensive, try ignorance."
Dr. Christine Davis is the VP for Student Affairs and Enrollment Management at Edison State College where she leads a division which includes Admissions, Academic Advising, Placement Testing, New Student Orientation, Student Activities, Residence Life, Career Services, and Disability Services.
EDISON STATE COLLAGE
www.edison.edu | 800-749-2322