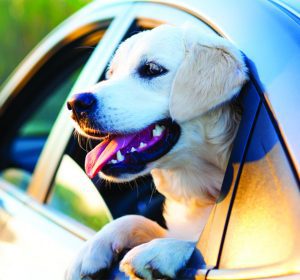 During the next few months, our families will be a little more active than normal with school being out and vacations planned for the near future. We will soon be enjoying, excursions, playing on the beach, visiting the parks, and barbecuing a lot more often. With all of this extra activity, comes the unfortunately increased chance of injury, especially for our pets.
During this busy time of year, we're more inclined to take our pets on the road with us, whether it's to visit family and friends, or for an event, our animals are more apt to join us on the road during the next few months.
Living in Florida, we're blessed with warm weather all year long, but even in the winter months, when the weather feels cooler, the inside of a car can reach well over 100 degrees within minutes. Even with the windows cracked, you should never leave your pet in the car. It is one of the most tragic reasons that vets see patients for emergency visits. Your pet can't let themselves out of a hot car; they depend on you to use caution and to have their best interest in mind.
Walking dogs this time of year is also dangerous, especially for short-nosed breeds that have trouble breathing like bulldogs, boxers, and pugs. Not only is the air hot around your pet, but the sidewalk and pavement are often scorching hot, which can burn the pads of their feet and also permeate heat into their bodies.
Always making sure to limit activity during hot periods (like midday), providing plenty of cool drinking water, and wetting your dog down if you don't' have air-conditioning in your home.
Heatstroke symptoms:
• Panting
• Increased heart rate
• Dizziness
• Fainting
• Fatigue
• Heart palpitations
• Muscle cramping
• Nausea
• Pale Gums
• Edema or swelling limbs
• Unconsciousness
• Death
Did you read the last symptom? Heatstroke can actually lead to your pet's imminent death. It's imperative for everyone that cares for an animal to take practical steps during the summer to stay safe when exercising and going about daily routines.
Best Friends Animal Hospital
Best Friends Animal Hospital believes in providing quality health care for your pet in a warm and welcoming environment. Their doctors routinely attend educational seminars in order to stay abreast of the latest medical treatments and technologies. Their hospital also prides itself on having state-of-the-art equipment including a digital X-ray machine and surgical laser, both of which are used in human medicine. The digital X-ray machine allows them to take high-quality radiographs in seconds and gives their doctors images with better diagnostic quality, while the surgical laser helps to decrease pain and bleeding as well as increase healing speed of the incision.
Best Friends Animal Hospital offers free 24-hour access to your pet's medical record through a pet portal, as well as home delivery of your pet's prescriptions through an online store. Their online pharmacy carries prescription medications, heartworm, flea and tick preventative, pet food, treats, and toys.
The doctors and staff are devoted to helping your pets' live longer, healthier and happier lives because they understand what an important member of your family your pet. Their knowledgeable staff is available to answer any questions you may have, and they look forward to seeing you and your pet(s) soon. Please visit their website to find out more, or call them to book your appointment.
Best Friends Animal Hospital
12220 Towne Lake Dr., Suite 50
Fort Myers, FL 33913
239-768-7387
www.bestfriendsanimalhosp.com