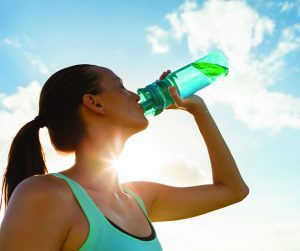 Living in Florida, we are typically accustomed to warmer days than most of the country, but during the spring and summer months, our typical 80-degree weather can skyrocket to high 90's and even triple digits, which can leave us feeling overheated very quickly.
It's important to stay hydrated by drinking plenty of water throughout the day, as well as avoiding the extreme heat during the mid afternoon.  If you exercise, it's often best to do an indoor workout activity or swim in the pool during excessive heat and humidity, which can be a real danger to many of us, especially the elderly.
Syncope is a fancy medical term for fainting.  Syncope can occur due to many different complications but is commonly seen due to heat exhaustion.  What happens is, the body's oxygen and blood are not able to adequately reach the brain, usually due to a drastic change in blood pressure, which creates a pooling of blood into the lower extremities, and this will cause collapsing and fainting.  If the person is not put in a reclined position with the feet elevated, they could potentially suffer additional complications including a seizure.  Syncope can quickly escalate into a dangerous outcome for many individuals.  If you have any heart irregularities, you may be more susceptible to these types of fainting spells.
Taking precautions during these upcoming hotter months is critical.  If you feel any of the following symptoms, you should sit down, elevate your legs above your heart, take deep breaths and get to a cool place, drink water, or call 911 if your symptoms do not dissipate.
Syncope Symptoms
• Nausea
• Excessive sweating
• Weakness
• Swollen calves, feet or ankles
• Falling over
• Fainting
Some types of syncope are medically life threatening.  People with a family history of heart disease, palpitations, and cardiac irregularities should make an appointment with their cardiologist for an updated EKG, Stress test, Holter monitor testing, or electrocardiogram to better control their risk factors for suffering from fainting spells.
Dr. Joseph Freedman MD, MBA
Dr. Freedman brings many years of experience as a cutting edge cardiologist specializing in the prevention, diagnosis, and treatment of all cardiac disease. He trained at the prestigious Cleveland Clinic, continually ranked #1 in Cardiovascular Care, where he focused on cardiac imaging. He achieved five board certifications in Internal Medicine, Cardiology, Comprehensive Adult ECHO, Nuclear Cardiology and Cardiac CT. During his tenure as the lead noninvasive cardiologist at Florida Medical Center in Ft. Lauderdale, he helped lead the hospital to achieve Level 5 chest pain certification, the highest designation of cardiac excellence.
Please call Dr. Freedman's Office at
(239) 574-8463 to make your appointment today.
This information is for educational purposes only and is not intended to replace the advice of your doctor or health care provider. We encourage you to discuss with your doctor any questions or concerns you may have.