By Greg Pascucci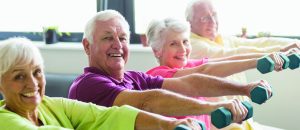 February is American Heart Month, a federally designated observance to remind Americans to focus on their hearts, a key to leading a longer, healthier life.
According to the National Institutes of Health, while aging does not itself cause heart failure, it does lower the threshold for manifestation of the disease. Below are a few tips on how you can be heart-healthy into your 90's and beyond:
Eat a Balanced Diet
A well-balanced diet can have a tremendous impact on our bodies. Eating leafy greens, colorful vegetables and fresh fruits can also protect the human body against diseases such as diabetes and obesity. A study by the National Institutes of Health (NIH) also found that the consumption of carotenoid-rich fruit and vegetables positively affects skin color, which influences perceptions of health and attractiveness. Heart-
healthy foods include wild salmon, sardines, walnuts, oatmeal, blueberries, green tea and dark chocolate.
Commit to be Active
The National Institutes for Health (NIH) advises everyone to include physical fitness in their daily routine. This is true, regardless of age. Even older adults with chronic pain and health conditions can incorporate exercise into their lives. Aqua aerobics, for example, is ideal for those with arthritis while stretching has been found to be beneficial for people affected by Parkinson's disease.
Laugh Often, Long & Loud
Experts suggest older adults take a cue from children who laugh on average over 400 times per day. Adults typically laugh only 15 times daily. Try to find the humor in every situation. A good laugh has a measurable impact on stress. While stress can raise levels of the hormone cortisol—known to affect memory and learning ability among older adults—laughter reduces it.
Form Social Connections
A study by Drexel University School of Public Health examined the connections between health, behavior and "social capital" (defined as the ties that build trust, connection, and participation) and found that older adults who reported greater social capital tended to maintain their independence and were healthier than their peers who experienced lower social capital.
At The Carlisle Naples, an active retirement community in North Naples, residents relish opportunities to be with others. As one resident said, "There's always something to do and someone to do it with!". From smaller group activities such as playing Bridge to community-wide events such as the annual Summer Olympic Challenge, residents are able to form friendships with neighbors, one of the pillars of maintaining optimal heart health.
Get Enough Rest
Lack of sleep can increase insulin resistance, a risk factor for the development of type 2 diabetes and heart disease. The National Sleep Foundation reports that while older adults may have changes to their sleep patterns, it's a common misconception that sleep needs decline with age. Research found that sleep needs to remain constant throughout adulthood.
"The Carlisle Naples encourages residents to lead full, active and engaged lives," said Executive Director Bill Diamond. "Our team employs an integrated approach to residents' health and wellbeing. Whether it's enjoying our delicious signature Cornucopia salad, which includes mixed greens, avocado, and grilled chicken or
participating one of the more than 10 opportunities for physical fitness offered each week, residents have a wealth or resources within our lovely community."
Located at 6945 Carlisle Court in Naples, The Carlisle offers spacious one-and two-bedroom residences, weekly housekeeping and flat linen services, basic cable TV, all utilities except telephone, and a complimentary full breakfast plus choice of lunch or dinner in the community's gourmet-style restaurant. For more information about the community, please call 239-221-0017 or visit www.TheCarlisleNaples.com.
The Carlisle, a luxury, resort-style senior living community in North Naples, offers both Independent and Assisted Living lifestyles. Available on a monthly fee basis, the ECC-licensed and CARF-accredited community boasts a full range of services and amenities including 12-hour restaurant dining, housekeeping, transportation and activities. Located on Airport-Pulling Road, between Pine Ridge and Immokalee Roads, the award-winning community's lush tropical environment is highlighted with meandering walking paths around three lakes and tranquility gardens. For more information or to schedule a tour, please call Director of Marketing Greg Pascucci at 239-221-0017.
Luxury Rental Retirement Living
6945 Carlisle Court, Naples, FL 34109
239-221-0017 . www.srgseniorliving.com