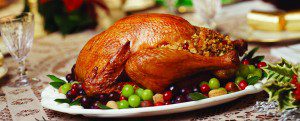 During the holidays, many of us look forward to parties and gatherings with our loved ones. Unfortunately, all those seasonal treats can make for tighter waistbands and added pounds. Let our tips guide you into a healthier, more energetic holiday season.
Don't show up to gatherings with an empty stomach:
If you're going to a holiday party where lots of food will be served, be sure not to walk through the front door with an empty stomach, according to the Academy of Nutrition & Dietetics. Help yourself to a small meal or snack before you leave so your hunger doesn't lead you to overeat.
Fill half your plate with fruits and vegetables:
Moderation is often easier said than done. A quick trick to moderate your intake while still enjoying those special annual treats is to fill half of your plate with fruits and vegetables. Enjoy in-season fruits and vegetables as well, such as sweet potatoes, pomegranates, oranges and kale.
Be careful with the salt shaker:
A little sodium goes a long way, and salt intake should be carefully monitored. Choose fresh fruits and vegetables over canned foods, which may contain more sodium. The US Food and Drug Administration recommend getting into the habit of flavoring foods with herbs and spices, instead of salt.
Be mindful of liquid calories:
Alcoholic beverages are high in calories and leave you feeling hungry. Alternate every alcoholic beverage you drink with a glass of water. This will keep your thirst quenched, your stomach full and temptations away.
Make simple substitutions when baking:
The holidays are no time to deny your sweet tooth. When choosing your baking ingredients, substitute butter with applesauce to reduce the fat content. Use whole-wheat flour to increase fiber intake. Consider low-fat or skim milk when the recipe calls for heavy creams to reduce calories as well. In addition, take the opportunity to add fruits to your diet by substituting dried cranberries or cherries for chocolate chips, according to the American Heart Association.
Integrate physical activity:
Physical activity doesn't have to mean hitting the gym. Make being active a family affair. Instead of driving to see the neighborhood decorations, take a brisk walk with the family. Find the parking spot furthest away from the mall entrance when getting your holiday shopping done. Take the stairs whenever possible.
Do you have questions about staying heart healthy during the holidays? For more tips or to address any concerns about your heart health, call Cardiac Care Group at 239-574-8463 today!
Dr. Scala has been selected a Castle Connolly 2015 "Top Doctor" by a physician-led team of researchers in the field of Cardiovascular Disease.
South Cape Business Center
3208 Chiquita Blvd. S, Suite 110
Cape Coral, FL 33914
(239) 574-8463
www.flccg.com
Our Cardiologist
Dr. Louis J. Scala has been voted TOP DOCTOR four consecutive years by Castle Connolly. He received his medical degree at the State University of New York Health Science Center. He completed his Residency at Brown University, and Cardiology Fellowship at Cedars-Sinai Medical Center at UCLA. He is Board Certified in Internal Medicine and specializes in Cardiovascular Disease.