By Gino Sedillo, MD, FACC, CardioVascular Solutions Institute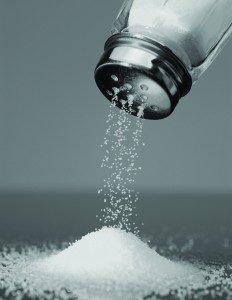 Dr. Gino Sedillo, and his staff at Cardiovascular Solutions Institute, support the heart healthy guidelines suggested by the Cleveland Clinic. Some evidence suggests that limiting daily sodium intake to 1500 milligrams (less than a teaspoon) may benefit patients with cardiovascular risks including, heart failure and hypertension for all middle aged and older adults.
Dr.Sedillo maintains that, "A low sodium diet is an important component in the management of high blood pressure as well as congestive heart failure."
If you are like millions of Americans, salt is one of the few, it not the only (aside from pepper), ingredients added to your food for flavor. Although salt is very tasty and is easily added to almost any recipe, it is very important for you to limit the amount of sodium in your diet.
Sodium is a mineral found in many foods. It helps keep normal fluids balanced in the body. Most people eat foods containing more sodium than they need. Some foods may be high in sodium and not taste salty. Eating too much sodium causes the body to keep or retain too much water.
Following a low sodium diet helps control high blood pressure (hypertension), swelling, and water build up (edema). A low-sodium diet can also help decrease breathing difficulties caused when the weakened heart has difficulty pumping excess fluid out of the body.
According to  Dr. Sedillo, "In many cases, strict salt avoidance can reduce the need for medications, or at least can result in lowering the dosages."
A low-sodium diet means more than just eliminating the salt shaker from the table! However, that is a good start since one teaspoon salt = 2,300 mg of sodium. In some cases, it is important to keep a record of the amount of sodium you consume every day.
The following are some simple heart healthy tips for you to consider that just might save your life. If you aren't doing so already, read the labels on the foods you buy. You may be surprised at how much sodium is hiding in your favorite foods. While becoming aware of and limiting salt intake is important, it is equally important that your meals include foods that are high in fiber. And last but certainly not least, maintain an ideal weight by getting regular exercise.
Limiting or, better yet, eliminating salt intake is an easy way to "Be Heart Smart." Throw that salt shaker away! You can season your food without using salt or by using less salt.
Cardiovascular Solutions Institute offers the following guidelines to help you limit sodium intake:
. Use fresh ingredients and/or foods with no salt added.
. For favorite recipes, you may need to use other ingredients and delete or decrease the salt added. Salt can be removed from any recipe except those containing yeast.
. Try orange or pineapple juice as a base for meat marinades.
. Avoid convenience foods such as canned soups, frozen dinners, pasta and rice mixes, instant cereal & puddings, and gravy mixes.
. Select frozen entrees that contain 600 mg or less of sodium. However, limit to one of these frozen entrees per day. Check the Nutrition Facts label on the package for sodium content.
. Use fresh, frozen, no added salt canned vegetables, or canned vegetables that have been rinsed before they are prepared.
. Low sodium canned soups may be used.
. Avoid mixed seasonings and spice blends that include salt, such as garlic salt.
. Don't use a salt substitute unless you check with your doctor first.
Dr. Gino Sedillo, M.D. F.A.C.C. Born in Albuquerque, New Mexico, Dr. Sedillo is Board Certified in Internal Medicine, Cardiovascular Diseases and Interventional Cardiology, and has been a member of the American College of Cardiology since 1996. He completed his residency training for Internal Medicine at the University of Texas, where he was voted Intern of the Year and was selected Chief Medical Resident. He completed his Cardiology training at the Texas Heart Institute/ St. Lukes Hospital in Houston, Texas. He was elected Chief Interventional Fellow. Dr. Sedillo received additional specialization in Coronary and Peripheral Vascular Intervention as well as Pacemaker Implantation.
After 15 years of training, Dr. Sedillo started working for the Bradenton Cardiology Center in 1995. While there he performed more than 1,000 procedures per year and he began teaching procedures and techniques to other practicing cardiologists, vascular surgeons, and interventional radiologists. He served as Director of the cardiac catheterization lab at Manatee Memorial Hospital.
Most recently, in May 2011, Dr. Sedillo founded his independent practice, CardioVascular Solutions Institute, with offices in Sarasota and Bradenton. Since then Dr. Sedillo has been named director of the Percutaneous Coronary Intervention program at Doctors Hospital in Sarasota.
When he's not seeing patients, teaching other physicians or doing clinical research, Sedillo cherishes time with his three children.
Call To Schedule Your
Appointment Today!
(941) 747-8789
www.cvsifl.com