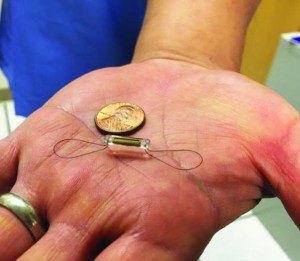 The Southwest Florida Heart Center at Bayfront Health Port Charlotte is the first facility in Charlotte County to implant a new miniaturized, wireless monitoring sensor to manage heart failure (HF). This system is the first and only FDA-approved heart failure monitoring device that has been proven to significantly reduce hospital admissions when used by physicians to manage heart failure.
The System features a sensor that is implanted in the pulmonary artery (PA) during a non-surgical procedure to directly measure PA pressure. Increased PA pressures appear before weight and blood pressure changes, which are often used as indirect measures of worsening heart failure. The new system allows patients to transmit daily sensor readings from their homes to their health care providers allowing for personalized and proactive management to reduce the likelihood of hospitalization.
"This is the latest in technology in improving our management of patients with congestive heart failure," said Sergio Cossu, M.D., F.A.C.C., cardiologist. "It allows for the continuous monitoring of a patient's pulmonary pressures which is a measure of the amount of fluid in their lungs. By measuring remotely through wireless technology, physicians can diagnose the slightest bit in decompensation in their patients prior to the patient having to be admitted with congestive heart failure. This device has significantly improved the ability to treat our patients and keep them out of the hospital longer."
Heart failure occurs when the heart is unable to pump enough blood to meet the body's demands. According to the Centers for Disease Control and Prevention, more than 5.1 million Americans have heart failure, with 670,000 new cases diagnosed each year. Patients with heart failure are frequently hospitalized, have a reduced quality of life and face a higher risk of death.
Dave Harris from Port Charlotte suffers from congestive heart failure (CHF) and atrial fibrillation (a-fib), in which the heart beats irregular. Most recently, he had a cardiac ablation, a procedure used to help treat a-fib. Although his symptoms were occurring less, he was still experiencing shortness of breath. When he met with Dr. Cossu for follow-up, "he said I was the perfect candidate for this new procedure," Harris said. "And when he told me I would be the first in the area, I said 'hey, there's nothing wrong with being number one at something'. Count me in doc".
Harris' procedure was scheduled and performed at the Southwest Florida Heart Center on Friday, June 3. Shortly following, he was up and talking and then discharged home a few hours later. "I'm looking forward to the help this may provide with my current problems. This could be a really good thing for this community".
The System's sensor is designed to last the lifetime of the patient and doesn't require batteries. Once implanted, the wireless sensor sends pressure readings to an external patient electronic system. There is no pain or sensation for the patient during the readings. The System allows the patients to transmit critical information about their heart failure status to a clinician on a regular basis, without the need for additional clinic or hospital visits. This provides clinicians with the ability to detect worsening heart failure sooner and adjust treatment to reduce the likelihood that the patient will need to be hospitalized. Data from a clinical trial showed that this technology reduces heart failure hospital admissions by up to 37 percent.
About Bayfront Health
Port Charlotte and
Punta Gorda
Bayfront Health Port Charlotte and Punta Gorda are Joint Commission Accredited hospitals part of a regional network of seven hospitals and more than 70 clinics along the I-75 corridor. Our Port Charlotte campus consists of a 254-bed full-service facility offering comprehensive services in emergency care, orthopedics and the only licensed obstetric and pediatric units and Level II neonatal intensive care unit in Charlotte County. The on-campus Southwest Florida Heart Center is an accredited chest pain center with PCI offering comprehensive cardiac services. Our Punta Gorda campus is a Joint Commission Top Performer on Key Quality Measures®  for pneumonia, surgical care and immunization and consists of a 208-bed facility offering an award-winning, accredited primary stroke center, the Joint Commission Certified Joint and Spine Academy, an accredited chest pain center, and emergency care services. Additional on-campus services include adult inpatient psychiatric care at Riverside Behavioral Center and rehabilitation and wellness services at the Wellness and Rehabilitation Center. To learn more, visit www.BayfrontCharlotte.com.