By Dr. Noël Crosby, Au.D.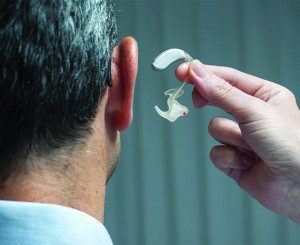 Hearing loss is one of the most prevalent chronic conditions in the United States.  It affects more than nine million Americans over the age of 65 and 10 million Americans age 45 to 64.  It is unfortunate that about three out of five older Americans with hearing loss and six out of seven middle-aged Americans with hearing loss do not use hearing aids.  There can be severe consequences for untreated hearing loss!  Untreated hearing loss has serious emotional and social consequences for older persons. This is according to a major study by The National Council on the Aging (NCOA). The study was conducted by the Seniors Research Group.James Firman, EdD, president and CEO of The National Council on the Aging. The survey looked at 2,300 hearing impaired adults age 50 and older and found that those with untreated hearing loss were more likely to report anxiety, depression, social isolation and paranoia and were less likely to participate in organized social activities, compared to those who treat their hearing loss.  Social isolation is a serious problem for many older adults, the study also examined social behavior and found that people who don't use hearing aids are considerably less likely to participate in social activities. Among those in this study with more severe hearing loss, 42 percent of the hearing aid users participate regularly in social activities compared to just 32 percent of non-users.  The survey found that significantly more of the seniors with untreated hearing loss (those who do not wear hearing aids) reported feelings of sadness or depression that lasted two or more weeks during the previous years. Among those with more severe hearing loss, 30 percent of non-users of hearing aids reported these sad feelings, compared to 22 percent of hearing aid users.  Another measure of emotional distress is the perception that "other people get angry at me for no reason,."  Psychologists often identify this as an indication of paranoia.  Older non hearing aid users were more likely to agree with the statement "people get angry with me usually for no reason" (14 percent of users vs. 23 percent of non-users). Among those with more severe hearing loss, the difference was even greater, 14 percent for users vs. 36 percent for non-users.  Hearing aid users have reported significant improvements in many areas of their lives, including their relationships at home and a feeling of independence to their social life and their sex life. In almost every area measured, the families of hearing aid users also noticed that improvements were even more likely than those reported by the users of hearing aids.
Hearing loss may also be a risk factor for another huge public health problem: falls and their resulting injuries that generate billions in health care costs in the United States each year.  To determine whether hearing loss and falling are connected,    Frank   Lin M.D., Ph.d. at Johns Hopkins, and his colleague Luigi Ferrucci, M.D., Ph.D., of the National Institute on Aging, used data from the 2001 to 2004 cycles of the National Health and Nutrition Examination Survey. This research program has periodically gathered health data from thousands of Americans since 1971. During those years, over 2000 participants ages 40 to 69 had their hearing tested and answered questions about whether they had fallen over the past year. Researchers also collected demographic information, including age, sex and race, and tested and measured participants' vestibular function, a measure of how well they kept their balance. Their findings are published in the Archives of Internal Medicine.  The study found that people with a 25-decibel hearing loss (classified as mild) were nearly three times more likely to have a history of falling than those with no hearing loss. Every additional 10 decibels of hearing loss meant an increased 1.4-fold risk of falling.  People with impaired hearing may not have good awareness of their overall environment, which makes them more likely to trip and fall, said study author Dr. Frank Lin. It might also be that with hearing loss, the brain becomes overwhelmed by the demands on its limited resources, Lin suggested.  Also,"gait and balance are things most people take for granted, but they are actually very cognitively demanding," Lin says. "If hearing loss imposes a cognitive load, there may be fewer cognitive resources to help with maintaining balance and gait."
Special Offer
FREE
Hearing Screening with Consultation
($55-value)
Call for an Appointment 941-474-8393
Limited Time Slots Available! Call Now!
PROFESSIONAL BIO
Dr. Noël Crosby, Au.D., owner and audiologist at Advanced Hearing Solutions in Englewood, FL is a licensed professional whose 26 year career has been devoted to helping people of all ages hear and understand more clearly. Dr. Crosby received her BS and MS degrees from FSU and her Doctorate in Audiology from UF.  Her credibility as an authority grew during her tenure as the Director of Audiology at the Silverstein Institute in Sarasota, FL from 1991-1998. Today, in addition to managing a successful audiology practice, Dr. Crosby is involved in creating hearing loss awareness through her jewelry and accessory company AuDBling.com. She has served and is serving on various professional boards and committees and was president of the Florida Academy of Audiology in 2000 and 2010.  She has been married to Michael for 23 years and has one daughter.
For more information contact Noël's office at 941-474-8393 or you can visit her website at www.advancedhearingsolutions.net.