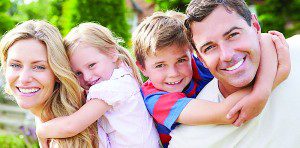 Officially, the enrollment period ended on March 31st; however, due to the many problems with the rollout some people were granted an extra extension until April 15th. If someone didn't meet the original deadline, all they had to do was state that they had "difficulties with their previous efforts" and they were given two additional weeks.
According to the government, millions of previously "uninsurable" or "poor" were able to get health insurance due to the Affordable Care Act. They cite two main reasons for this:
1) The ACA declares that no one can be denied health coverage due to pre-existing conditions.
2) Anyone that falls under 400% of the poverty level earns credits to help pay for their health insurance. A set of examples right here in SWFL are below:
Vince Spinelli, a licensed agent in Naples, told us that if you were not able to enroll by now you will have to wait for the next open enrollment period. Since the ACA must issue policies regardless of health conditions, the periods for enrollment are limited to once a year. No Major Medical Plans can be applied for until November 15th, 2014 and won't be effective until January 1st, 2015.
There still are some options that you may select protect yourself.
You may still be able to obtain a short-term plan.  These plans do not comply with the ACA requirements and will require medical underwriting.
Basically, this is what was originally intended for people that switched jobs and needed some coverage to "fill the gap" before their new policy began. The policies are available and provide benefits similar to typical Major Medical plans, prior to 1/1/2014.
Another option is a Defined Benefit plan, these pay "Specific Amounts" for hospital stays, surgical procedures diagnostic testing and other in- patient services. Some also offer 24/7 access to a MD for minor illnesses requiring an RX, invoice mediation,24 hour Nurse line, and other Value added services.
Additionally, supplements are available to provide Direct Payments in the event of an Accident (big or small) and/or a Critical Illness i.e. Cancer, Heart Attack, Stroke, Coma, Renal failure   and other named illnesses.
Since the payments are separate from the base Heath Insurance, they may be used to pay deductibles, other out of pocket medical expenses and/or replace lost income.
Whatever your situation is, be sure to keep informed on that latest changes. With the new health care law, there are sure to be many more to come. It's best to develop the solution best suited to your needs with a Licensed (unbiased) Professional.
The enrollment period is over for now, but the debate continues!
If you have any questions regarding the ACA and how it affects you, please contact Vince Spinelli. He is located at 10341 Heritage Bay Blvd. #1926. Naples, FL 34120 and can be contacted by calling (239) 592-7598.