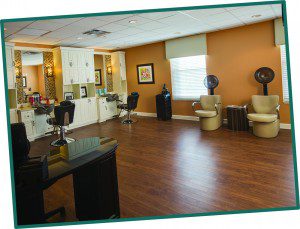 As a seamless blend of modern amenities and classic sophistication, HarborChase of Sarasota, a new assisted living and memory care community, represents the next level in senior living. HarborChase offers stimulating activities, customized programs and innovative health services. From its peaceful setting to its luxurious apartments, HarborChase offers all the comfort of home.
"We want residents to enjoy life, make friends, and have a good time being here with them," says Bobbi Mace, Executive Director of HarborChase. "Families visit frequently and are always welcome to attend events with their loved ones. It feels calm and tranquil here, not hectic like some other communities. It's so important to us not to be a clinical model while still addressing clinical needs."
Maintaining the balance between delivering top quality care in a safe environment and providing a rich and fulfilling lifestyle is something that Vero Beach-based Harbor Retirement Associates (HRA) has been doing for more than 20 years. At HarborChase, all Care Partners and associates are carefully selected, not only for their caregiving knowledge and expertise, but also for their warm and caring hearts. It is their mission to ensure that every resident lives a full and cherished life.
"It's like being on a cruise ship", says Linda Amin, Director of Resident Care. "The medical aspects are there, but rarely seen. Everything is centered on residents' needs. We want to help them be whatever they want to be. For each individual, we look at their care needs and enrichment as well as what they enjoy participating in. They are not treated like part of a herd."
HarborChase is committed to providing residents with a high level of customization. As part of this commitment, they've launched the Chef's Fare Dining Program. The program features a wealth of options tailored to each individual's dining preferences. It allows residents to savor independence and choice with every meal. Those who have a busy day and want a quick lunch at the bistro or take their time in the beautifully appointed dining room.
"One of our residents likes to sleep in, so does not go to the restaurant for breakfast", says Amin. "She goes to the bistro instead for a cup of coffee and a cinnamon roll that she enjoys in front of the fireplace."
HarborChase knows residents love staying busy, so its Life Enrichment program offers a wide variety of cultural events, learning opportunities, entertainment options, religious programs and group excursions.
"We have a lounge area for socializing with integrated technology that allows us to have game time," Mace says. "People can come in and play a game of trivia while enjoying a cocktail with friends. We also have a lot of live entertainment. We always come up with things our residents can look forward to. We truly have something for everyone."
While Harbor Chase has a wealth of amenities and an emphasis on enjoying life, it also has an Extended Congregate Care (ECC) license, the highest level available, that covers both assisted living and memory care. This means residents can age in place should their need for care increase over time. A nurse is on premises 24/7 and the ECC license, which many other communities do not have, allows for in-house care for residents. The community also offers the convenience of visiting physicians who attend to residents on-site. Rehabilitation services are available for those recovering from knee and hip replacement or other conditions.
"Our goal is for all of our residents to enjoy life to the fullest extent possible", says Mace. "That's so important because people have the misperception that life is diminishing when they come to assisted living, but it's just the opposite. Here they flourish and enjoy life because we take care of the cooking and cleaning, and they don't have to worry about managing doctors appointments and getting to the grocery store. When people come here, all of those cumbersome chores and worries go away, and they can really enjoy life."
For more information on HarborChase of Sarasota, call (941) 462-2515 or visit www.harborchase.com/Sarasota.htm.