By Amy Hilliard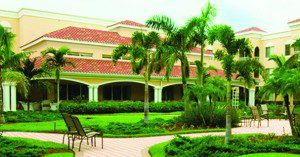 Though there is no one set definition of the word "happy", experts agree that being in this emotional state can have a wealth of health benefits. For some, happiness is prosperity while others may equate it with wellness. Regardless of how one defines contentment, we know it when we feel. August is Happiness Happens Month, designed to encourage people to recognize their happy moments and think about happiness in their daily life.
This month and beyond, consider taking the time to reflect on the people and things that truly bring out your inner happiness. Below are a few happiness-boosting activities that can be done to keep you in good spirits:
Exercise
A Penn State University study found that more physically active people reported greater general feelings of excitement and enthusiasm, compared with their less physically active counterparts.
Older adults can also reap the rewards of exercise. Physical activity is important for everyone, regardless of age and has been shown to ward off common emotional issues such as loneliness and depression.
At The Carlisle Naples, an active retirement community in North Naples, residents have a wealth of fitness options ranging from water fitness to Wii bowling. In addition to instructor-led classes, a state-of-the-art fitness center with equipment specially designed for older bodies provides an inviting atmosphere for residents who are just beginning a healthier lifestyle or are lifelong fitness enthusiasts.
Enjoy the Outdoors
Naples' lovely year-round weather is perfect for embracing the great outdoors. A series of studies published in the Journal of Environmental Psychology concluded that being outside in nature for just 20 minutes in a day was enough to significantly boost vitality levels.
Collier County's picturesque setting provides plenty of opportunities to be at one with nature. For example, Sugden Regional and North Collier Regional Parks
offer birdwatching while wildlife can be observed at the Corkscrew Swamp Sanctuary.  Delnor-Wiggins State Recreation Park—visited monthly by Carlisle residents—is consistently ranked as one of North America's best beaches and provides peaceful views of the Gulf of Mexico.
Also, The Carlisle's meandering walking paths around three lakes and tranquility gardens provide the perfect backdrop to enjoy the outdoors. Amenities such as the putting green and swimming pool and outdoor special events take advantage of the community's lush tropical environment.
Socialize With Others
There is scientific research proving that people feel happier when they socialize—even introverts. Being with others has been linked to strengthening one's immune system and faster recovery times. Meaningful relationships with family and friends offer the most benefits and can boost endorphins, dopamine and serotonin which play a key role in happiness.
At The Carlisle, residents have the option of being as relaxed or as active as they choose. Whether enjoying a book in the onsite library or gathering with friends with dinner, the possibilities are endless. Even residents who prefer their solitude find comfort in knowing there is a friend or neighbor within steps of their front door to join them for an activity or outing.
Participate in Intergenerational Activities
Nothing brings a smile to one's face quite like a young child. Older adults and the younger generation both experience tremendous rewards by participating in intergenerational programming. Spending time with a grandchild or great-grand is just as emotionally rewarding as mentoring a student and truly helps one tap into their joy.
Carlisle residents benefit from the resort-style community's ongoing partnership with Sabal Palm Elementary. The students visit the community several times each school year including Halloween and Christmas and look forward to interacting with their "grand-buddies". The Carlisle also hosts an annual end-of-the-school-year trip to Golisano Children's Museum of Naples or Naples Zoo at Caribbean Gardens to reward students for their academic achievement. The program brings a tremendous amount of happiness both to the young and young at heart.
"While happiness may indeed be a personal choice, The Carlisle's maintenance-free lifestyle enables residents to spend their time focused on activities which bring them the greatest satisfaction," said Executive Director Frank White. "Here, it's all about choice and our residents choose to embrace their post-retirement years pursuing new hobbies or rediscovering their passions."
Located at 6945 Carlisle Court in Naples, The Carlisle offers spacious one-and two-bedroom residences include interior and exterior maintenance, weekly housekeeping and flat linen services, basic cable TV, all utilities except telephone, and a complimentary full breakfast plus choice of lunch or dinner in the community's gourmet-style restaurant.
For more information about the community, please call 239-221-0017 or visit www.TheCarlisleNaples.com.
The Carlisle, a luxury, resort-style senior living community in North Naples, offers both Independent and Assisted Living lifestyles. Available on a monthly fee basis, the ECC-licensed and CARF-accredited community boasts a full range of services and amenities including 12-hour restaurant dining, housekeeping, transportation and activities. Located on Airport-Pulling Road, between Pine Ridge and Immokalee Roads, the award-winning community's lush tropical environment is highlighted with meandering walking paths around three lakes and tranquility gardens. For more information or to schedule a tour, please call Director of Marketing Amy Hilliard at 239-221-0017.
Luxury Rental Retirement Living
6945 Carlisle Court, Naples, FL  34109
239-221-0017 . www.srgseniorliving.com