WHERE WORLD-CLASS TECHNOLOGY MERGES WITH WORLD-CLASS EXPERTISE TO MEET
YOUR MEDICAL IMAGING AND INTERVENTIONAL NEEDS IN A NEW STATE-OF-THE-ART FACILITY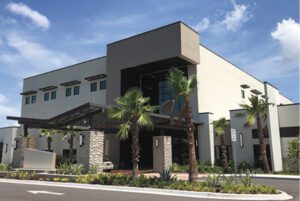 SIR-Florida has dedicated itself to being on the leading edge in the fields of radiology and interventional radiology. We have set ourselves apart from other providers by pairing the most advanced technology available today with the unparalleled skill, experience, and knowledge of our medical team. We diagnose and treat many medical conditions with minimally invasive interventional outpatient procedures in lieu of traditional surgery.
SIR-Florida is a true non-hospital-owned outpatient facility that has no rival in the Bradenton/Sarasota area. Our new facility is a one-stop imaging center that provides the ultimate patient experience and makes patient comfort and safety our priorities. SIR-Florida offers a significant financial advantage, as our procedures average about 20% of the fees charged at hospitals and hospital-owned outpatient facilities. This means substantially less cost to patients for their deductible and to insurance providers for the balance. When you factor in our board-certified physicians and technologists, the compassionate care we give to all patients, and our convenient location, SIR-Florida is your best choice for imaging needs and outpatient interventional procedures.
SIR-Florida serves patients who choose us directly and those referred to us by their physicians, but the choice of facility is ultimately up to the patient. We collaborate fully with referring physicians and assist in the development of a treatment plan that is based on the individual patient's needs.
IMAGING TECHNOLOGY
We are pleased to announce our latest imaging equipment:
The Koning 3D Digital Breast Imaging system uses CT technology to produce real 3D images with exceptional image resolution. With this new method of breast imaging, there is no compression, so there is no pain. The quick 10-second scan produces hundreds of images to give a comprehensive view of the breasts, which means that no callbacks for additional views are needed. SIR-Florida is one of only three facilities in the U.S. to have this new technology.
The Canon Digital 3T MRI is an extremely fast advanced scanner that produces high-resolution digital images to ensure accurate diagnoses. It accommodates patients of all sizes in an open, quiet, and comfortable environment. Designed to enhance the patient experience, its larger bore and shorter magnet create an open feeling that significantly reduces patient anxiety. Conscious sedation (twilight anesthesia) may be administered to claustrophobic patients by our board-certified anesthesiologists without compromising the quality of the scan.
The Canon Aquilion One CT is acclaimed for its high levels of imaging detail, reduced radiation dosage, and ability to individualize contrast dosage. Its design and intelligent technology adapt to the patient with targeted modeling for the brain, body, lungs, bone, and the heart. Screening exams conducted with CT include lung cancer screening, colorectal screening (virtual colonoscopy), cardiac CT for coronary calcium, and coronary CT angiography.
Our broad spectrum of imaging technology also includes:
• Digital X-ray
• Ultrasound (Sonography)
• Bone Density
• Coming Soon—PET/CT and Nuclear Spect
INTERVENTIONAL RADIOLOGY
Interventional radiology (IR) uses nonsurgical and minimally invasive techniques, combined with image guidance, to diagnose and treat a wide range of medical conditions. The scope of IR services is constantly expanding and, at SIR-Florida we are committed to ongoing learning and growing in this dynamic environment.
IR services at SIR-Florida include:
Interventional—SIR-Florida's procedures include biopsies to evaluate for the presence of cancer, osteoarthritis treatments, tissue regeneration therapies (exosomes and platelet rich plasma), peptide therapy, uterine fibroid relief, infertility evaluation, and treatments for kidney and bile duct obstructions.
Pain Management—SIR-Florida utilizes image-guided, minimally invasive, non-opioid techniques for the treatment of pain. Nerve and joint pain, acute and chronic pain, back pain, and degenerative disc disease are types of pain frequently presented to us. Procedures include epidural steroid injections, selective nerve root blocks, trigger point injections, facet joint injections, sacroiliac joint injections, and pain blocks.
Vascular Health—Procedures performed to identify narrowing or blockages in blood vessels include the aortogram, carotid arteriogram, cerebral angiogram, coronary angiogram, iliac angiogram, peripheral angiogram, and renal angiogram. Atherectomy is the primary procedure for the treatment to remove plaque buildup from narrowed vessels.
Many IR procedures are performed with conscious sedation administered by board-certified anesthesiologists. Also known as twilight anesthesia, the patient does not feel a thing and wakes up immediately after the procedure with no memory of it.
Gerald E. Grubbs, MD, Founder and Medical Director of Sarasota Interventional Radiology
In 2006, Dr. Grubbs established SIR-Florida where he has dedicated himself to becoming a trailblazer in the field of Interventional Radiology and one of the first Interventional Radiologists to introduce and perform some of today's most sophisticated minimally invasive procedures.
SARASOTA INTERVENTIONAL RADIOLOGY
6600 University Parkway, Suite 102
Sarasota, FL 34240
Breast Imaging 941-253-5191
Phone 941-378-3231
Website www.sir-florida.com