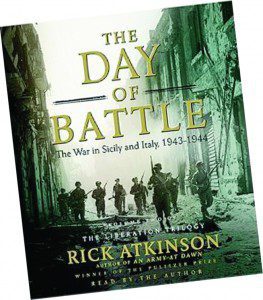 (14) And the Word became flesh and dwelt among us, and we beheld His glory, the glory as of the only begotten of the Father, full of grace and truth. – John 1:14
Rick Atkinson, in his excellent book, The Day of Battle:
The War in Sicily and Italy, 1943-1944, tells the story of the shelling of Anzio.  After one particularly brutal Luftwaffe attack during that horrible campaign, a 1st Armored Division mess sergeant is said to have prayed the following:
"God, help us.  You come yourself.  Don't send Jesus.  This is no place for children."
We understand how the sergeant felt.  This world is a dark and dangerous place.  The Enemy is everywhere; the bombs are dropping, and nobody makes it out alive.
But there is good news for the sergeant and all who think like he did.  He understood the child, Jesus, to be God's Son (which
is true), but he did not understand that Jesus is God, the Son (which is also true).  When Jesus came, God came.  He came Himself.
God came into the ruin, wreckage, pain and suffering of the human experience.  And He brought His glory, to be seen, heard, felt, and known by people just like us.
But had He come with just glory, we may have been left with something feeling like the Burning Bush in Exodus:  A dazzling God who makes very steep demands.  But He also came "full of grace."  He came not just to dazzle us, but to once and for all deliver us.
And His deliverance is offered as a free gift to all who will receive it by following Him as Lord.  It's not about being good.  We can't be good enough long enough.  It's not about earning His love (what kind of love is "earned" anyway?).  It's about believing that He is who He says He is, and trusting that central truth enough to follow Jesus, who is Himself God.
You may not be in a literal battle today, but sometimes it sure feels like it.  Your plans go sideways; your efforts aren't enough, and your mistakes just keep happening.  We can thank the Lord that He came to this fallen world and brought the Glory we worship and
the Grace we need.
McGregor Baptist Church
3750 Colonial Blvd.
Fort Myers, FL 33966
(239) 936-1754