By Beth Marlow, Master Certified Airbrush Technician & Organic Skin Care Specialist & Holistic N.C. & L.C. –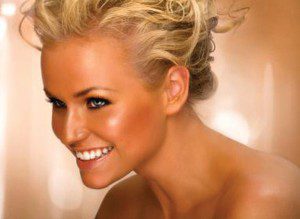 Looking for a fast, fun and flawless way to WOW your significant other on Valentine's Day? Then try the new 100% Organic Airbrush Spray Tan now being offered at Tan & Spa U.S.A. While everyone else's roses are wilting after a few days, the effects of your beautifully bronzed body will still have your sweetie mesmerized. Most people know that a tan physique gives you a slimmer appearance and a BIG boost in confidence, right? Well, you can get the tanned, sexy look that all of Hollywood is sporting without the sun AND without turning orange by visiting a Master Certified technician at Tan & Spa U.S.A. in Ft. Myers. They use only 100% Eco-certified Organic & Vegan Sunless solutions, which have a pure and natural Aloe Vera base, along with Antioxidants, Vitamins & Organic extracts for healthy, glowing skin. Let's be clear, all Sunless solutions are NOT created equal and if you've ever turned orange from a spray tan in the past, you know what I mean. This is one area where the quality of the ingredients and the training of the Technician make an enormous difference in the results and in your overall spray tan experience. Tan & Spa U.S.A. is the area's exclusive provider of this new Organic Sunless Solution which contains no parabens, no preservatives and no synthetic ingredients.
This new formulation is infused with the highest grade Vitamin C, Green Tea extract, Sea Kelp, Grape Seed extract and other skin conditioners to bathe your skin in a nutrient-rich glow that is flawless in every way. And the premier 1-Hour quick-set Organic formula has just arrived at Tan U.S.A. so there's no need to wait the traditional 6-8 hours for your Sunless tan to develop… yes, now your spray tan can be fully developed in 1 short hour so you can have your tan applied as late as 6 o'clock, take a quick shower by 7 and head out for your special evening plans! Wow, now that's easy!
Generally there are 3 important things to look for when choosing a spray tan provider:
1. How experienced Is the Technician?
2. What kind of spray tan solution do they use? Is it low quality & full of synthetic chemicals, which turn orange or High Grade Organic which gives a natural looking tan?
3. Do they instruct you on how to take care of your spray tan? At Tan & Spa U.S.A., they have ONLY Master Certified Technicians who have years of experience in the application of Eco-Certified Organic Sunless solutions and use only the finest quality Organic products available on the market today. The lesson here is, when it comes to your spray tan, QUALITY MATTERS… so don't cut any corners! Here are some tips to follow before scheduling your Organic Spray Tan, which will help ensure the best experience and results.
• Book your Spray Tan appointment at Tan & Spa U.S.A. and select one of their Organic formulas: either the standard 6-8 hour development or the New 1-hour (so no more waiting overnight for your tan to appear!)
• Select your shade from light, medium or dark… there is a range of shades to choose from.
• Only Tan U.S.A. guarantees ORGANIC DHA SUNLESS ONLY – perfect for sensitive skin and eco-friendly.
• All natural, no parabens, no sulphates or alcohol.
• Infused with aloe vera, grape seed extracts, vitamin C, Sea kelp & other antioxidants for a nutrient-rich sunless tan.
• Smells divine – no strange odor, just a hint of honey & almond.
• Choose from a fantastic range of take home products – everything you need to maintain your tan once you leave the salon.
• Lasts 5-7 days.
Before Your Spray Tan:
What you need to consider ahead of your spray tanning appointment:
• Make sure you shower and exfoliate well the day before or day of your spray tan.
• Do not apply any moisurisers or fragrances after showering as these can form a barrier to the spray tan solution and will reduce the ability to apply an even color all over.
• If you normally wax, make sure you do this at least 1 to 2 days before your tanning treatment.
• If you normally shave, make sure you do this prior to coming in.
• Wear loose, dark clothes to your appointment as you don't want anything tight that will rub where the tan is developing
• Plan to stay completely dry for several hours during the development phase of your spray tan.
ENJOY YOUR BEAUTIFUL ORGANIC SPRAY TAN! (DHA-based sunless tanning has been recommended by the American Academy of Dermatologists and the Canadian Dermatology Association. DHA is a colorless sugar derived from plants such as sugar beets.)
TAN USA
239-939-7789
www.tanusainc.com