By Amanda Cox –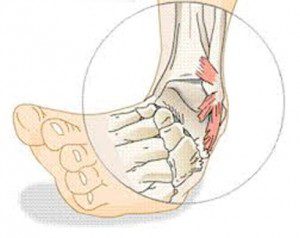 Accidents happen. Have you ever unexpectedly stepped into a hole causing your ankle to twist? Or rolled your ankle while running? Either way, the end result is you clutching your foot in agony. Nearly 25,000 people experience this each day (American Orthopedic Foot and Ankle Society). In fact, almost one fourth of all sports injuries consist of sprained ankles (Puffer JC); helping to make it the most common type of ankle impairment. Ankle sprains are triggered by an irregular twisting of the ligaments that connect the bones between our lower legs and feet.
Ankle sprains fall into two main categories; inversion and eversion. Inversion injuries occur more frequently than eversion. Inversion is when your ankle rolls outward while your foot turns inward. Consequently, the ligaments that are located on the outside of the ankle are torn and stretched. Whereas, the interior ligaments are damaged when the ankle rolls inward and the foot turns outward. This is referred to as an eversion injury. If an ankle sprain is not treated properly, long term complications may follow. What measures should be taken when an ankle sprain takes place?
To reduce swelling and minimize the pain, it is advised to apply ice. This should be limited to approximately 20 to 30 minutes, every three to four hours. Rest is just as essential, so make sure to avoid placing weight on the ankle. Also, keep it elevated by placing it on a pillow. Ankle splints and compressive bandages help stabilize the ankle. When applying these, begin at the toes and work your way up the leg. Nonsteroidal anti-inflammatory drugs, such as ibuprofen and aspirin, can help ease the discomfort.
Often times, ankle sprains can go undetected until more moderate symptoms present themselves. These include instability of the ankle, difficulty walking, stiffness, and tenderness. Although we cannot prevent all injuries, it is important to be aware of dangers such as uneven surfaces. The vast majority of ankle sprains happen while trying to navigate these terrains.
Podiatry is the specialty that focuses on conditions of the foot and ankle. These physicians are the most qualified to diagnose and treat a sprained ankle. A minimum four years of specific podiatric training at a qualified medical school plus three years of residency are required (American Podiatric Medical Association).
A local podiatrist, Doctor Brian Doerr, brings an abundance of medical training and experience to his practice. For eight years, he worked as a paramedic for Lee County EMS. Furthering his education, Dr. Doerr was awarded a bachelor's degree at the University of South Florida and a doctorate at Temple University School of Podiatric Medicine. Patients benefit from his philosophy that an informed patient is better prepared to make decisions regarding their health and wellness. This is why many Floridians choose Dr. Doerr for their podiatric needs. Dr. Doerr and his friendly staff treat you as a person, not a number. If you, or a loved one, find yourself with an ankle injury, call Dr. Doerr's office at 239-931-3668.