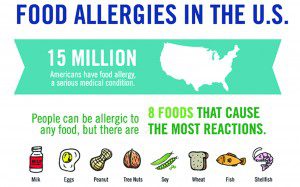 How Many People Have Food Allergies?
• Researchers estimate that up to 15 million Americans have food allergies.
• This potentially deadly disease affects 1 in every 13 children (under 18 years of age) in the U.S. That's roughly two in every classroom.
• The economic cost of children's food allergies is nearly $25 billion per year.
Food Allergies on the Rise
• According to a study released in 2013 by the Centers for Disease Control and Prevention, food allergies among children increased approximately 50% between 1997 and 2011.
• The number of people who have a food allergy is growing, but there is no clear answer as to why.
• Researchers are trying to discover why food allergies are on the rise in developed countries worldwide, and to learn more about the impact of the disease in developing nations. More than 17 million Europeans have a food allergy, and hospital admissions for severe reactions in children have risen seven-fold over the past decade, according to the European Academy of Allergy and Clinical Immunology (EAACI).
Food Allergy Reactions & Anaphylaxis
• Every 3 minutes, a food allergy reaction sends someone to the emergency department – that is more than 200,000 emergency department visits per year.
• A reaction to food can range from a mild response (such as an itchy mouth) to anaphylaxis, a severe and potentially deadly reaction.
• The U.S. Centers for Disease Control reported that food allergies result in more than 300,000 ambulatory-care visits a year among children under the age of 18. Food allergy is the leading cause of anaphylaxis outside the hospital setting.
• Once an anaphylactic reaction starts, a medication called epinephrine is the first line of defense to treat the reaction, and you should immediately seek emergency medical attention by calling 911. You can protect yourself by learning the symptoms of allergic reactions and knowing what steps to take if you have a severe reaction.
• Teenagers and young adults with food allergies are at the highest risk of fatal food-induced anaphylaxis.
• Individuals with food allergies who also have asthma may be at increased risk for severe/fatal food allergy reactions.
• Symptoms of anaphylaxis may recur after initially subsiding and experts recommend an observation period of about four hours to monitor that the reaction has been resolved.
• It is possible to have anaphylaxis without any skin symptoms (no rash, hives).
• Failure to promptly (i.e., within minutes) treat food anaphylaxis with epinephrine is a risk factor for fatalities.
Foods Commonly Associated with Food Allergies
• Eight foods account for 90 percent of all reactions: milk, eggs, peanuts, tree nuts, soy, wheat, fish and shellfish. Even trace amounts of a food allergen can cause a reaction.
Food Allergy Risk Factors and Related Diseases
• Food allergies affect children and adults of all races and ethnicity.
• A food allergy can begin at any age.
• Your risk of having food allergies is higher if you have a parent who suffers from any type of allergic disease (asthma, eczema, food allergies, or environmental allergies such as hay fever).
• Children with food allergies are 2-4 times more likely to have other related conditions such as asthma and other allergies, compared with children who do not have food allergies.
• Food allergies may be a trigger for or associated with other allergic conditions, such as atopic dermatitis and eosinophilic gastrointestinal diseases.
Can You Outgrow a Food Allergy?
• Peanut and tree nut allergies, which also tend to develop in childhood, usually are lifelong. In the U.S., approximately three million people report allergies to peanuts and tree nuts. Studies show the number of children living with peanut allergy appears to have tripled between 1997 and 2008.
• Cow's milk, egg and soy allergies typically begin in childhood and eventually may be outgrown. In the past, most children outgrew these allergies by school age. A recent study, conducted by researchers at Johns Hopkins University School of Medicine, indicated that children are taking longer to outgrow milk and egg allergies. Fortunately, the majority are allergy-free by age 16.
• Fish and shellfish allergies also tend to be lifelong. More than 6.5 million adults are allergic to finned fish and shellfish.
Is There a Cure?
• There is no cure for food allergies. Strict avoidance of food allergens and early recognition and management of allergic reactions to food are important measures to prevent serious health consequences.
Source: Foodallergy.org