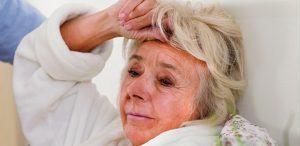 Adults 65 and over are more susceptible to the dangers of the flu, as their symptoms can quickly exacerbate into something worse. This happens because the immune system in the elderly becomes weaker, and the ability to fight off viruses and bacteria becomes more difficult and problematical with age, leaving seniors much more vulnerable to the complications of respiratory infections, than younger adults.
A chronic cough is a major symptom of the flu. However, coughing is actually a natural bodily reaction to excess buildup in the respiratory tract, meaning that your body is trying to clear itself of phlegm and other materials. Unfortunately, the cough and gag reflexes that induce a coughing fit become more suppressed as we age. This means that even though an elderly person with the flu has a blocked respiratory tract, he or she might not even feel the symptoms of this buildup in their lungs. Regrettably, this excess of fluid makes elderly patients more susceptible and at greater risk for developing pneumonia. Pneumonia is the fourth leading cause of death in the U.S. among the elderly.
Since 90% of flu related deaths are in adults over the age of 65, it's important to plan, as there are multiple ways to prevent the flu. Along with the traditional flu shot vaccination, Fluzone High-Dose Vaccine is also available and indicated for active immunization of persons 65 years of age and older. High Dose Vaccine contains four times the amount of antigens than of a normal flu shot, which creates a stronger immune response to help fight the flu virus.
If you or a loved one becomes infected with the virus, there are antiviral medications that help limit the length and severity of the flu. Because these are both important ways to prevent and treat the flu, it's always a good idea to speak to your primary care physician about whether they are appropriate for your specific needs.
Flu Related Complications
. Pneumonia
. Bronchitis
. Sinus infections
. Ear infections
. Extreme fatigue
Prevention
. Get vaccinated
. Ask about the High-Dose Flu vaccine option
. Practice thorough hand-washing often
. Cover your cough with your sleeve or a tissue
. Avoid people who are contagious/ill
At Home Care Preferred, (HCP, a superior home health care company) they offer the committed support that caregivers and patients need. They understand the rampant spread of the flu and its serious complications, and they take every one of their patient's health and safety concerns seriously. HCP makes certain that their staff is well trained on the precautions and preventions.
When caring for individuals with the flu, Home Care Preferred always creates the most comfortable environment for the patient, along with the highest standard of care. Most importantly, they make sure the clients are not spreading the virus between family members. HCP also takes every precaution to maintain a sanitary and germ-free environment for the clients to minimize the spread of an infection. The elderly truly need someone to care for them when they are suffering from the complications of the flu.
Serving all of Collier and Lee County, including Marco Island, Naples, and Fort Myers in Southwest Florida. Home Care Preferred caregivers include Companions, Certified Nursing Assistants (CNA's), Home Health Aids (HHA), LPNs, and Registered Nurses (RN's). You can rest assured that their staff is trustworthy, insured, and have had extensive background checks. Home Care Preferred can make caring for your loved one a promising and favorable experience.
For more information on Home Care Preferred, please visit their website at www.FloridaHCP.com, or call them direct at  (239) 302-9090 or (239) 900-4141