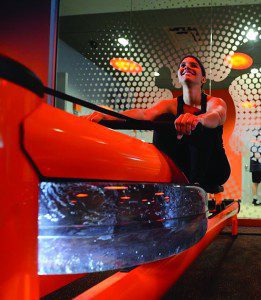 When you were a kid, the worst part of the year was, of course, going back to school. Now that you're an adult, this time of year can actually be worse for you, as a parent, than it is for your children.
There is so much chaos surrounding this phenomenon, it's a wonder any parent can keep his or sanity, much less keep exercise a priority.
You may be tempted to hold out and wait for the perfect time to exercise but, believe it or not, it'll be a lot easier if you start right now.
Fitness For Every Level of Experience
Have you fallen off the fitness wagon over summer? Are you at the beginning of your fitness journey? Or maybe a fitness enthusiast or even a professional athlete? Either way, Orangetheory Fitness sessions are made for all fitness levels. During each class, you'll switch between treadmills, indoor rowing and weight room/resistance training blocks. We change up the workout, so you'll never get bored or plateau.
Orangetheory Workout Sessions
The Orangetheory Fitness training session is comprised of three components: treadmill interval training blocks, indoor rowing and weight room or resistance training blocks. These Orange 60 sessions are open to all adults and teens, ages 16 and older. All fitness levels are welcome as our program is specifically designed for everyone from power walkers to elite performance athletes.
As you plan to participate in your first Orange 60 workout, please arrive 30 minutes prior to the start time so we can educate and prepare you for the most efficient, science-based workout you will ever experience. Call your nearest studio to book your first complimentary workout.
If weight loss is your goal, you can expect to see an estimated loss of three to five pounds per week by attending three to five sessions per week and with proper nutritional planning. If performance is your goal, you can expect to see an increase in power, speed and strength after your first two weeks of attending two to four sessions per week. Our clients burn an estimated 500 to 1000 calories per workout.
Try Orangetheory for FREE!
Check us out. See if Orangetheory Fitness is right for you. Join us for free workout sessions, no obligation, no commitment required. If you do not love Orangetheory, walk away, no hard feelings. Stop by or give us a call and discover for yourself how Orangetheory can work for you!
OTF Gladiolus
11600 Gladiolus Drive, Unit 317
Ft. Myers, FL 33908
Call 239.243.0730
OTF Six Mile cypress
8001 dani Drive, unit 6
ft. myers, fl 33966
call 239.292.5826
ORANGETHEORY DIFFERNCE
• Burn 500 calories or more in 60 minutes**
• Keep burning calories for up to 36 hours
• High energy, coach-led group workouts
• Customized for your level of fitness
• Heart-rate based interval training
• It's tough! It's fun! It's addictive!