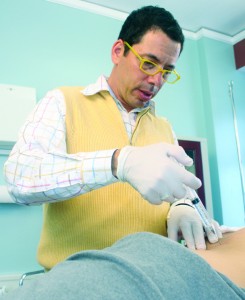 By midlife more than fifty percent of the population experiences significant episodes of low back or lumbar pain. Oftentimes, chronic low back pain leads patients to surgery of the lumbar spine. Unfortunately, ten to forty percent of the lumbosacral spine surgeries done for disabling pain culminate with recurrent or persistent pain. The numbers are so overwhelming that this condition has its own diagnosis. This condition is known as Failed Back Surgery Syndrome (FBSS).
What does FBSS involve? Interestingly, even though a back surgery is considered "successful," because the anatomic area was surgically "fixed," the defining symptoms of FBSS, persistent back and/or leg pain, can occur. The pain and discomfort cause a major negative impact on the ability to manage everyday activities such as standing, lifting, and traveling.
MRI findings can lead to unnecessary surgery
With so much technological progress, how does this still happen? Sometimes surgery is done when it was never indicated. Surgery may be recommended based primarily on MRI findings. This involves performing surgery on a structure that looked bad on MRI, but was actually not the true cause of pain. While operating on one condition, another condition may be overlooked. A disc may be removed, for example, but the underlying instability, causing disc degeneration and stenosis is not addressed. Disappointing results and pain will often result.
Joint Instability — the Link to Sciatica and other Back Pain Conditions
Back pain that goes down the leg, commonly referred to as "sciatica," is an example of a common reason why people end up in surgery. If surgery is done to release the pressure on the sciatic nerve, but the patient complains of residual pain, this indicates that there are other structures causing the pain which were not addressed by the surgery. Pain that comes and goes or is worse in certain positions points to sacroiliac joint instability. (See Figure 1.)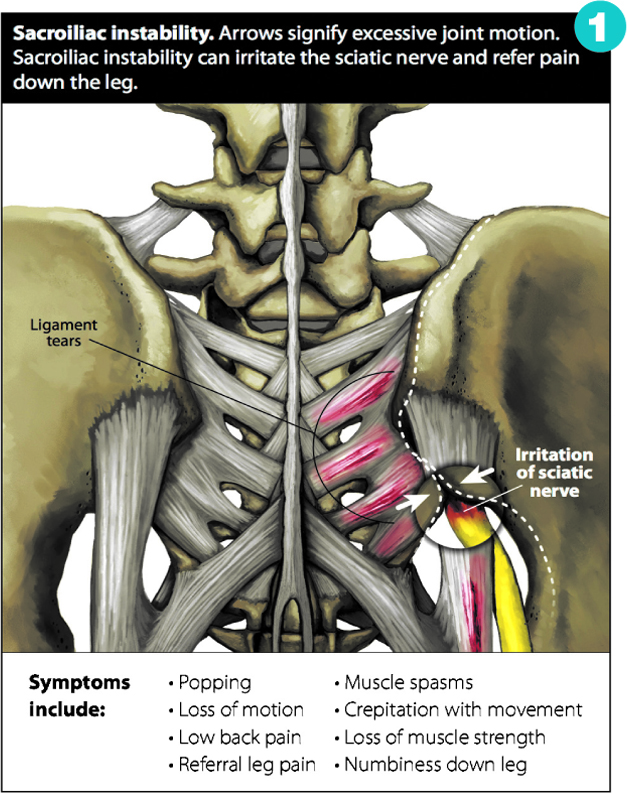 The lumbar spine is composed of five vertebrae separated by discs and supported by strong muscles and ligaments. Cumulative trauma through years of sports and other activities can result in small tears of the ligaments. One major trauma or injury can be of such severity that ligament healing never occurs, leaving the vertebrae unstable and without the support they need from those ligaments. Spinal instability due to ligament laxity can cause a myriad of painful conditions. (See Figure 2.)

Effects of Fusion Surgery
Fusion surgery may be recommended due to excessive movement, or instability, in the spine. The surgeon is looking to place artificial material to permanently fuse that area together, to keep it from moving. Once the joints are fused together, motion in the spine has to come from somewhere else, creating added stress on the sections above and below the spine.
One of the well-known long term effects is degenerative arthritis below and above the fusion. In numerous cases, this creates added back pain and arthritis after the surgery and a continued need for medical treatments. Regenerative Medicine options are available to stabilize the vertebrae without surgery.
Nonsurgical treatments for back pain
Regenerative Medicine refers to modalities that stimulate the body to repair itself, such as Prolotherapy, PRP and Stem Cell therapies. Our bodies have amazing regenerative capabilities and this can be harnessed to help degenerative conditions that show up on X-ray or MRI. (See Figure 3.) This is a novel approach because we are triggering the body to strengthen the tissue on its own, without the use of artificial hardware.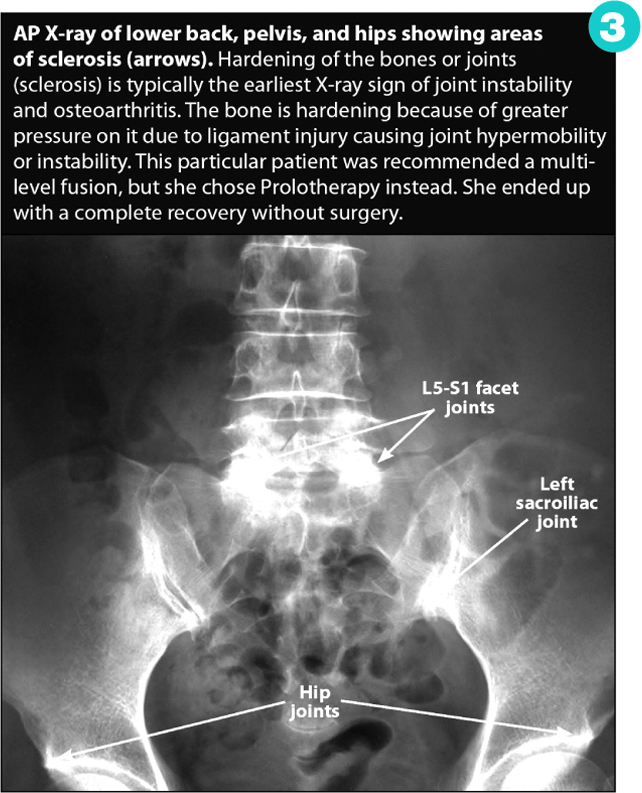 Regenerative treatments like Prolotherapy are quick, outpatient procedures that allow the person to remain active in sports or other activities they enjoy, without the need for extensive downtime. For those with back pain who have not had surgery yet, regenerative therapies can often be tried as a first-line treatment. Prolotherapy is helpful for almost all types of back pain: herniated discs, bulging discs, degenerative disc disease, chronic subluxation of the sacroiliac joints, and more. For those who have already had surgery and are now suffering from Failed Back Surgery Syndrome, Prolotherapy may be a consideration to correct the true underlying cause of the pain: spinal instability. Numerous studies on the use of Prolotherapy for back pain are available, including where Prolotherapy was used as an alternative to surgery. See studies and citations at www.AboutProlotherapy.com.
Prolotherapy Specialists:
Ross A. Hauser, MD.
Danielle R. Steilen, MMS, PA-C
Timothy L. Speciale, DO
239-303-4546
www.CaringMedical.com