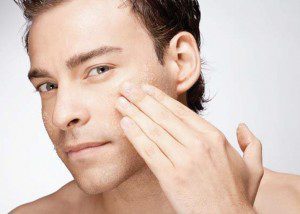 Most people consider cosmetics and facial rejuvenation as within the realm of women.  Indeed, women currently represent 75% of the cosmetic surgery of the face that is performed in this country.  In our health and youth oriented society, however, men are becoming increasingly aware of how their appearance effects the perception of their energy and vitality.   The number of men using skin care, Botox® and Dysport® for lines caused by motion and fillers to soften grooves that run from the nose to the jowl, are increasing in number, as are
the number of cosmetic surgical procedures.
Dr. Douglas Stevens is a board certified facial plastic and reconstructive surgeon who specializes in rejuvenation of the face.  He has seen a great increase in the numbers of men who want to continue to look their best whether for an extended time in the workforce or in their active retirement lives.  The most common procedure performed by Dr. Stevens in men is removal of excess skin of the upper eyelid.  Men find that the heavy skin in this area can make them look tired or less approachable.  Removal of the excess skin opens the eyes giving a more awake and approachable appearance.  Often, the procedure can be performed in the office and, if visual impairment is documented, the procedure may be covered by insurance or Medicare.
When men come to the office for a "lift" they are usually concerned with the appearance and feel of the neck.  The excess skin in this area and/or heaviness can be especially problematic when wearing a collared shirt.  To resolve this issue, a face – neck lift is the answer allowing for a tighter, more youthful neck.  Dr. Stevens has developed an in-office version of the traditional facelift, which he calls the Active Lift®.   The Active Lift® allows for the long term and dramatic results of a traditional facelift but without the need for "going under" anesthesia.  It takes an operating room procedure and changes it into an office procedure.  Often, this is very appealing to men. Further information and to view a gallery of photos can be seen on the practice website, DouglasStevensMD.com.
The best place to start in this journey is a consultation.  During the consultation, Dr. Stevens will listen to your concerns and address them each individually.  Once all the options are laid out, you and Dr. Stevens will come up with a plan to meet your goals and to maintain your new, refreshed appearance.
Consultations are always complimentary and can be made with Dr. Stevens by calling 239-481-9292.  Call to schedule yours today!