By Thom Braun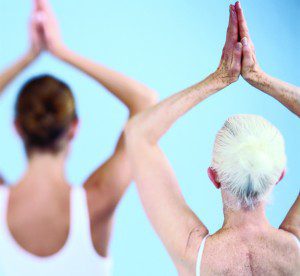 The National Institutes of Health have found that exercise is one of the healthiest things older adults can do. In fact, making exercise and physical activity a regular part of your life can significantly improve your health and help you maintain your independence as you age.
Innovative senior living communities have em-braced this theory and are encouraging and cele-
brating exercise as an essential component in successful aging. Their wellness programs are designed to keep older adults physically and mentally young at heart.
"Today's older adults are more active than previous generations and seek programs geared to their lifestyle," said Bill Diamond, Executive Director at The Carlisle, a luxury resort-style retirement community in North Naples.  "Studies continue to support our belief that physical activity, even in moderation, improves the health and wellbeing of seniors."
According the NIH, when older adults lose their ability to do things on their own, it typically doesn't happen simply because they've aged. It is usually the result of inactivity.
At The Carlisle, a fulltime Program Director ensures there is an inviting atmosphere that supports residents' desire to lead an active, vibrant lifestyle. Our upcoming Summer Olympic Challenge is just one of the many activities that promote health and wellness.
The competition, now in its 12th year, pits neighbor again neighbor in a series of physical and mental challenges. "The Carlisle Draft" was held last month for residents to decide on team captains and to secure players for each team: Sharks, Flamingos and Pirates.
The teams will then compete in a in a variety of challenges ranging from Baseball Pitch, Basketball Foul Shooting, Bocce Ball, Jeopardy, Crosswords and a Spelling Bee during a weeklong competition, July 20-25. Last year, one of the oldest participants was 101 years old!
Carlisle residents also have numerous opportunities throughout the week to participate in fitness classes. From water fitness to Tai Chi, our wellness program challenges the most active residents and inspires those just beginning a workout regimen.
It's never too late to begin a healthier lifestyle and age should never be a deterrent to physical fitness. Exercise has been shown to slow down the rate of aging. There is also an abundance of evidence confirming exercise is a major factor in the reduction of approximately two dozen health conditions including dementia, cancer, heart disease and type 2 diabetes.
Lack of activity is also linked to more doctors' visits, hospitalizations and more use of medicines for a variety of illnesses.
Experts suggest the following fitness tips:
• Consult with your doctor before beginning any exercise program, especially if there is a history of heart conditions;
• Start slow and build your endurance. Walk for 5 minutes then gradually increase your time;
• Vary your workout by including aerobics and strength training;
• Be sure to hydrate and maintain a balanced diet;
• Listen to your body—know your limitations.
"The Carlisle's programs make wellness a way of life for residents, regardless of age," added Diamond. "They are reaping the many benefits of an active lifestyle and as one resident recently pointed out, 'we're keeping our minds and bodies going' by participating in all that The Carlisle offers."
Located at 6945 Carlisle Court in Naples, The Carlisle offers spacious one-and two-bedroom residences, weekly housekeeping and flat linen services, basic cable TV, all utilities except telephone, and a complimentary full breakfast plus choice of lunch or dinner in the community's gourmet-style restaurant. For more information about the community, please call 239-221-0017 or visit www.TheCarlisleNaples.com.
The Carlisle, a luxury, resort-style senior living community in North Naples, offers both Independent and Assisted Living lifestyles. Available on a monthly fee basis, the ECC-licensed and CARF-accredited community boasts a full range of services and amenities including 12-hour restaurant dining, housekeeping, transportation and activities. Located on Airport-Pulling Road, between Pine Ridge and Immokalee Roads, the award-winning community's lush tropical environment is highlighted with meandering walking paths around three lakes and tranquility gardens. For more information or to schedule a tour, please call Director of Marketing Thom Braun at 239-221-0017.
Luxury Rental Retirement Living
6945 Carlisle Court, Naples, FL  34109
239-221-0017 . www.srgseniorliving.com