Minimally Invasive Face Sculpting & Lifting
By: Alina Stanciu, MD Board Certified Ophthalmologist American Academy of Cosmetic Surgery
Mini-Facial procedures are in more demand to satisfy the need of the modern women who has less time for surgical procedures and higher expectations for natural and quicker results in maintaining a younger looking face. With this is mind Dr. Stanciu developed the European Face Lift that addresses the signs of aging and corrects facial imperfections. The procedure is deigned for patients whose age can vary from young 30s and beyond and benefits men as well as women. "I want to have cheek bones again" or "I want to have sensuous lips" or "I hate smokers lines" or "I need a lid crease again"……..but I want to look natural. These are some of the common concerns that Dr. Stanciu addresses with very good results with the European Face Lift.
Dr. Stanciu developed a unique facial rejuvenation treatment that offers a relatively easy, safe, minimally invasive way to smooth out wrinkles, fill in furrows, plump up the hollows and correct facial imperfections. This treatment that she calls the European Face Lift sculpts and lifts the face by combining dermal fillers with injectables such as Botox® Cosmetic in order to correct wrinkles in different ways. These cosmetic fillers such as Restylane®, Perlane®, Juvederm®, and Radiesse® replace lost volume and restore youthful contours to the skin, smoothing away wrinkles. In contrast Botox® Cosmetic relaxes the muscles that cause frown lines between the eyebrows. Maintenance and skin care is key in long term viability of the treatment. While there is a time and place for mini-procedures, realistic expectations are important.
Alina Stanciu, MD, FAAO, ASCS  medical director of Advanced Eye Care & Laser Center is a facial rejuvenation specialist and injectable treatment expert. Using her unique aesthetic sense and surgical skills she developed the European Face Lift using Botox® Cosmetic, all dermal fillers, lip augmentation and Blepharoplasty or eye lid lifts as an alternative to traditional surgery.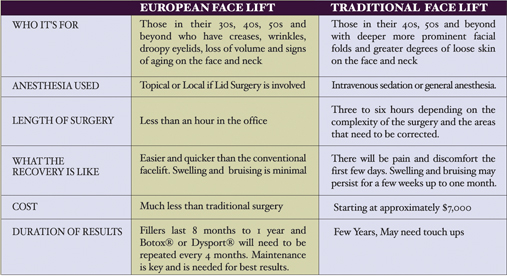 To schedule a FREE personalized aesthetic consultation
call 239-949-2020
or visit www.StanciuEyeCare.com
to see some of the amazing transformations of some of our patients.