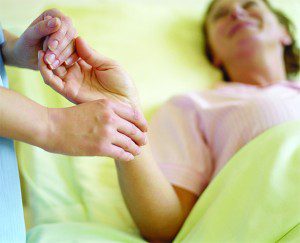 Webster's dictionary defines an emergency as "an unexpected and sudden event that must be dealt with urgently." Hence, individuals seeking care in an Emergency Room (ER)—whether it's for chest pain or a broken arm—expect to be seen and treated quickly.
That's why Physicians Regional Healthcare System offers a '30-Minutes-or-Less ER Service Pledge'. "We understand if you've made a trip to the emergency room, you expect to be treated as quickly as possible, regardless of whether you have a major or minor emergency," says Dr. Hunter Brown, Board Certified Emergency Medicine Physician, and Medical Director of Emergency Services for the healthcare system.
The ER Service pledge means Physicians Regional's staff is committed to making sure each patient arriving in the ER is seen by a medical professional (physician, physician assistant or nurse practitioner) within 30 minutes of arrival.  Since launching the program earlier this year, the average wait time for non-life threatening emergencies at both Physicians Regional hospitals has averaged 17 minutes. The national ER wait-time average is greater than one hour, according to the Centers for Disease Control.
"We have become very efficient in our patient-flow processes, allowing us to allocate resources swiftly," explains Dr. Brown.  "We triage (assess patients' needs) to focus on life-threatening emergencies first, but now patients with minor emergencies do not wait unnecessarily due to inefficiencies on our part.  The feedback from patients has been very positive."
While patients receive a prompt assessment so treatment can be initiated, Dr. Brown stresses that no one is rushed through the ER. "Ultimately, our goal is to provide appropriate, quality care in a timely manner," he says.  Dr. Brown does tell us that it typically may take up to 90 minutes to get all necessary test results back so that emergency doctors can determine the course of treatment a patient will need.
Physicians Regional ER physicians are all board-
certified in emergency medicine.  Both hospitals have been designated by The Joint Commission as Primary Stroke Centers, and the Pine Ridge hospital is an Accredited Chest Pain Center.
Because you never know when an emergency or urgent healthcare crisis will strike, so be sure to have these items updated and on hand at all times. It's a good idea to keep them in your purse or glovebox so you will have them with you when visiting an emergency room:
• Photo ID
• Your health insurance card or policy number
• List of your medications and dosages, including
any over-the-counter medications you take.
• List of medication allergies
• Brief history of any allergies, chronic
conditions, major illnesses/accidents/surgeries
• Names and phone numbers of your doctor and
any specialists you see
You should not bring valuables such as jewelry or cash to the emergency department.
During your ER visit, ask questions if you do not know what a doctor or other medical staff is doing, such as what medical tests are being done. Make sure you understand what the ER doctor tells you about your health, or ask him/her to write it down.
Also, make sure you know if there is anything special you need to do after you go home from the ER. For example, if you have a bandage, find out when and how to change it. Tell your regular doctor(s) as soon as possible about your visit to the ER.
Other ER service features include a callback process to check on discharged patients. "Within three days of their discharge from the ER, we try to reach patients by phone to find out if they have questions about prescriptions or other discharge instructions," explains Dr. Brown.  "It's also a good opportunity to learn ways we can continue to improve our service and to hear about employees and physicians who provided excellent service. The patients really appreciate this extra attention."
Physicians Regional Healthcare System's service pledge underscores its commitment to the people who live and work in the Collier County community.  Says Dr. Brown, "The purpose of the 30-
Minutes-or-Less Pledge is to assure patients we are dedicated to offering quality care, and to providing that care as efficiently and quickly as possible."
Physicians Regional
Pine Ridge
6101 Pine Ridge Rd.
Naples, FL. 34119
(239) 348-4000
Physicians Regional
Collier Blvd.
8300 Collier Blvd.
Naples, FL 34114
(239) 354-6000