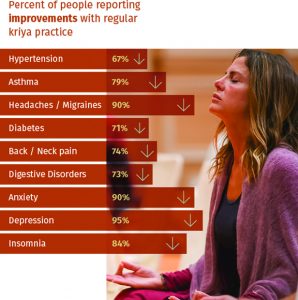 Stressed out? If so, you're not alone; the American Psychological Society reports that almost a quarter of adults in the U.S. are under extreme stress. The silver lining is that finding your way out—transmuting your stress into happiness; pain into peace—may be easier than you think.
Perhaps you have explored methods to improve your health or mental clarity, or simply to create more energy and provide relief from daily stress. Research data has shown that simple yoga practices can relieve physical and emotional ailments and leave you feeling more relaxed and peaceful.
Explains Sadhguru, founder of the nonprofit Isha Foundation and one of the world's foremost authorities on yoga, "As we have physical science to create external well-being, there is a whole inner dimension of science to create inner well-being. I call it Inner Engineering."
Inner Engineering is a world-renowned program that cultivates peace from the inside out. As the name implies, it's all about building our inner framework in such a way that external situations no longer dictate our happiness. It's all about seeing the world through a different, nonreactive lens.
Inner Engineering is a distilled essence of yogic science – a thorough overhaul of the body, mind, emotions and life energy. This practice incorporates the breath, providing access to your deepest life energies and making them vibrantly alive.
We cannot prevent "stressful" situations from coming into our lives, but we can use ancient yogic sciences and our own inner wisdom to control how we react to them. It's a muscle that gets stronger the more we use it. Through meditation, we learn to rejuvenate our presence so that our mind, body and emotions are harmoniously aligned.
Inner Engineering is an antidote to the stresses of modern life, and offers simple but powerful processes from yogic science to purify the system, enhance mental and physical health and well -being, and bring about a greater sense of balance.
Whether you're a seasoned yogi or a novice, Inner Engineering will meet you where you are, laying the groundwork for happier, more intentional living. For those seeking professional and personal excellence, this program offers keys for meaningful and fulfilling relationships at work, at home, in the community, and within one's self.
"The perspective and practices that Sadhguru has given, gives you the strength and stability to go through the day without getting overly disturbed by stress. My equanimity and sense of calmness in the face of all that life throws at me has certainly improved a lot."
– Ravi Venkatesan, Author & Former Chairman, Microsoft India
"Sadhguru, you have been an inspiration to me. I mean a true inspiration. I hope everybody comes to Isha in one way or another."
– Donna Karan, Founder of DKNY, Fashion Designer & Humanitarian
In April, Sadhguru himself will be presenting the Inner Engineering Completion program in Tampa. This event offers a unique opportunity to receive this life-nurturing science live – from an authentic source.  (Completing Inner Engineering Online, a seven-session online course, is a prerequisite for this program.).People from all over the world will travel to this event since Sadhguru conducts only few sessions every year across the globe. The event is on April 29-30 at the Tampa Convention Center. Inner Engineering can be attended by anyone age 15 and above. If you would like to attend, please visit InnerEngineering.com or call 813-413-1661 to register.