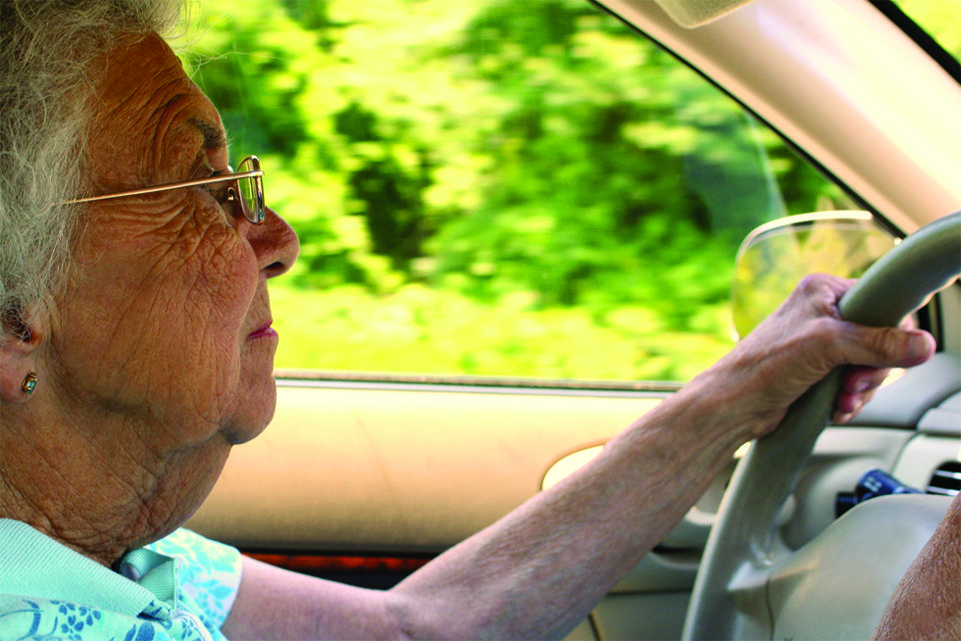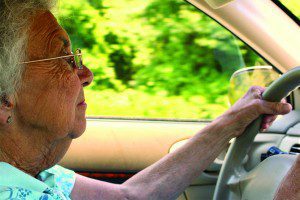 As a group, seniors age 80 and older have the highest rate of fatal crashes per mile driven, even higher than for teens, according to the Insurance Institute for Highway Safety. Simply put, too many people continue driving when it's no longer safe for them to do so.
Many seniors may notice changes in their own driving ability and as a result, they may "self-regulate" by driving only familiar routes, or in daylight hours only.  But others may not see their own limitations, or may stubbornly hang on to whatever forms of independence they have left.  The early stages of Alzheimer's and dementia are the most common reasons an older driver will fail to recognize their own declining abilities.  Vision problems, slower reactions and other effects of aging increase the risk of crashes. But most state legislatures ignore the problem.  Driving represents independence and freedom, in addition to providing mobility, and politicians aren't eager to take on seniors by making driver's license renewals more stringent. If you have ever approached a spouse, parent or friend about giving up driving, you can appreciate why. But state lawmakers largely sidestep the issue, so it's up to families to take action when a loved one is no longer a safe driver. Family members are the most likely ones to notice the changes: incidents like minor fender-benders, or making maneuvers with their eyes closed against the sun.
When this happens, problems should be reported to the DHSMV.  Seniors can report themselves, but often don't.  It takes a lot of courage to hang up the keys!  Others who can help in this area are:
• Physicians and Optometrists – they can assess and counsel older drivers but they are not required to report problems.  They may, if they are concerned, but they might not have a good sense for when a patient should hang up the keys.
• Occupational Therapists and Rehabilitation Specialists – they can evaluate an individual's overall ability to operate a vehicle safely and, if needed, recommend ways to limit risks.  Older drivers can be referred to these experts by their doctors.
• Family and Friends – they may be the key observers of the warning signs of risk factors.  Advance planning is a good idea.  When faced with loss of independence, emotions run high.  So approaching the subject as early as possible, before it's a crisis, has a much more positive effect.  Begin a process of having periodic conversations about driving and suggest options, depending on the degree of impairment.
The right approach. If you suspect that an older family member's driving skills have seriously deteriorated, take a ride with him. Note whether he has trouble judging gaps in traffic, following traffic signals and road signs, maneuvering or parking the car, or remembering the route. If there's a problem, address it head-on. Most people wait until after a crash and it's too late. But you should act before an accident occurs.
Before you have the conversation, investigate transportation options in your area and their cost. Calculate how much money your family member would save by driving less or not at all, and point out that the savings could be used for other ways of getting around.
When an aging parent resists giving up driving, some families resort to disabling the car or hiding the keys. But it's better to let the state department of motor vehicles make the decision. Often, the best way to make that happen is to take your case to your parent's doctor.
Rules governing physicians, however, vary from state to state. In some, including New York, doctors can't contact the DMV regarding a patient without the patient's permission. In others, such as Florida any physician, person or agency who knows of any licensed driver's or applicants mental or physical disability to drive is authorized to report this to the DHSMV. A report to the DHSMV may trigger a review of your parent's driving record or an order to retest the driver. It could also lead to a health evaluation.
We here at Life Care of Estero are here to improve the health and the safety of the community for which we serve. As part of this vision, we provide a team of highly skilled Physical, Occupational, and Speech Therapists and the latest in cutting edge rehabilitation technology such as the AlterG anti-gravity treadmill and the Biodex balance system to help you regain your independence and facilitate you reaching your personalized goals.  Please call our outpatient rehabilitation department at (239) 495-4046 if you have any questions or think we can help you reach your rehabilitation goals.
239.495.4000 | 3850 Williams Rd. | Estero, FL 33928 | www.lifecarecenterofestero.com
Sources:
Florida Department of Highway Safety and Motor Vehicles (https://www.flhsmv.gov)
Helping Seniors Drive Safer and Longer:  SeniorDriving.AAA.Com