Monthly "Lunch and Learn" Lectures Are Available Again Throughout Southwest Florida!
By Hoglund Family Hearing and Audiology Services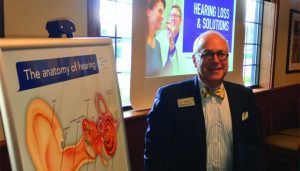 Hoglund Family Hearing And Audiology Center has been the educational resource for Southwest Florida for everything related to the human hearing system. Their popular "Lunch and Learn" seminar series really begins to "ramp up" as the winter months arrive. "I have always believed that hearing is an aspect of health that most people wish they knew more about but have nowhere to turn," states John Hoglund BC-HIS, ACA. "Unfortunately, Primary Care Physicians cannot stay in touch with all the breakthroughs in the field of hearing when attending to every other aspect of health. My wife Patricia and I have tried diligently to bring compelling speakers and informative research finding to Southwest Florida, and make this information available in a relaxed atmosphere, along with a delicious meal! The response from attendees has been flattering and encouraging!" "I would recommend this lunch and learn seminar to friends and family because it is very informative. The workshop was excellent. The speakers were very knowledgeable and covered every ear problem possible. They also explained everything in layman's language which made it easy to understand. My knowledge about hearing has dramatically improved after attending the Seminar."
– Eileen A, Bonita Springs
John started his educational lecture series back in 1985, and has personally given between 1000-1500 lectures on topics surrounding hearing health. He and Patricia also get compelling speakers to come to the area who are experts in the fields of Hearing Loss, Memory, Tinnitus (Ringing Ears), Hearing Aids, Meniere's Disease, Vertigo, and especially Nerve Deafness! "The information that was covered was informative and very helpful in understanding Tinnitus and hearing loss. They provided me with information that I had not heard before. John is an above average speaker and knows his topics very well. I have learned so much from him and I'm pleased to have come to the seminar."
– Barbara K., Fort Myers
The month of December will feature a series of lectures with Dr. Jaime Katz AuD from Starkey Laboratories who is one of their most respected and requested speakers. Dr. Katz has 36 years of clinical experience, including comprehensive diagnostic audiology at a speech and hearing center, as well as an ENT practice, with strong emphasis on product training and research. Educational seminars are a great way to learn about a topic from experts in the field and relaxed atmosphere surrounded by people who are experiencing cellular health questions. There is a "strength in numbers" effect being in a room full of people who are going through the same confusion or symptoms that you are experiencing. In cases like Patients with severe Tinnitus, it is hard for family members to understand the distress their spouse is experiencing, but when a room full of Tinnitus Patients "break bread together" at the luncheon, a greater understanding of the condition occurs. This can help immensely! "It was really interesting learning of the emotional component of Tinnitus and brain trying to compensate for the hearing loss. The information was helpful to understand tinnitus. As a spouse of a person with tinnitus, I can be more sensitive to his condition." – Janet M., Fort Myers
John will also give a lecture at the Healthy Life Center (Lee Health's Education Center at Coconut Point) about the new ties between hearing loss and memory problems on Monday December 18th at 11:30. "We love the work that Lee Health does in raising awareness about every aspect of healthcare," John states. "And we are extremely proud that they have included us as speakers in their network. They have a wonderful classroom set up at Coconut Point in Estero, as well as a new center in Cape Coral that has excellent classrooms with fantastic audio and visual equipment that make it easy for attendees to learn new topics and have rooms devoted to health screenings. We have had excellent crowds for the "Is it my Memory … or is it my Hearing? Seminar, since so many people have cognitive concerns!" "The seminar was very informative – I learned a lot about hearing loss and memory since I was concerned about it and dementia." – Sandra K., Fort Myers
PLEASE CALL THE HEALTHY LIFE CENTER AT (239) 495-4475 to find out more about their excellent resources and to RSVP for this Seminar!
It is good for people to have somewhere to turn when it comes to Hearing or Tinnitus lectures! "People seem to greatly appreciate the speakers we have been able to bring into the area," John continued. "Dr. Katz is one of our most requested speakers because of his incredible level of experience and expertise. I insist that although many of the speakers come from a specific company that the program based on education and not a commercial about how good their company is or why you should purchase their products!" "Excellent Tinnitus Presentation today! I am so glad I came. I expected an extended sales pitch, but got a very good overview of hearing and tinnitus problems with a description of a treatment protocol and recommended testing. Well done!" – Robert G., Naples
Please take advantage of this Month's Seminar opportunities. To R.S.V.P. call (239) 208-6827, or contact us by email to madeline@hoglundfamilyhearing to sign up for this lecture series and to be alerted to other Lectures and Speakers throughout the year!
TUESDAY, DECEMBER 12TH 11AM and 2PM: AT PERKINS PANCAKE HOUSE FORT MYERS 14801TAMIAMITRAIL (GLADIOLOUS/
SIX MILE CYPRESS&41)
WEDNESDAY, DECEMBER 13TH 2PM: AT BONITA SPRINGS PERKINS 27941 CROWN LAKE BLVD. (CORNER OF 41 AND BONITA BEACH ROAD).
THURSDAY, DECEMBER 14TH 2PM: AT NAPLES PERKINS PANCAKE HOUSE, 3585 PINE RIDGE RD, NAPLES, FL 34109.
FRIDAY DECEMBER 15TH AT 2 PM : AT PERKINS OF ESTERO, 20320 GRANDE OAK SHOPPES DRIVE, ESTERO
THIS IS A FREE LUNCHEON EVENT. SPACE IS LIMITED,
SO RESERVE YOUR SEATS NOW.
TO R.S.V.P. PLEASE CALL 239-208-6827
Hoglund Family Hearing And Audiology Center
Fifteen 8th Street, Suite B (Next to Royal Scoop Ice Cream)
Bonita Springs, FL 31434
239-494-8651
Southwest Florida Tinnitus And Hearing Center
10020 Coconut Rd. Ste.120 (Next to LabCorp)
Estero, FL 34135
239-494-8652
AUDIOLOGY CENTERS OF HOGLUND FAMILY HEARING
13710 Metropolis Ave.Suite 101
(One block west of Gulf Coast Hospital)
Fort Myers, Fl. 33912
239-208-6827