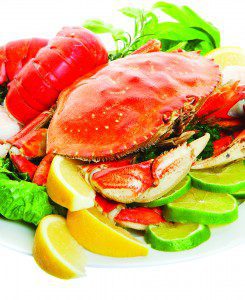 Summer and her "Dog Days" are here.  Afternoon showers, steamy evenings and praise for air conditioners complete the picture.  While summer can be the favorite season for some, it also is the least favorite for others.
We celebrate our nation's birthday on July Fourth, so let's start there.  If you are planning a picnic, here is a reminder of some red-white-blue do's and don'ts:  RED – good time for juicy, cold watermelon.  Enjoy it!  Like tomatoes, watermelon contains healthy lycopenes.  Red hot dogs on the grill?  The all-American favorite is not your healthiest choice but they are tasty.  Suggest trying a lower salt version; maybe a turkey dog or veggie dog.  Red hamburger?  Even if you enjoy your burgers rare, it is recommended to cook them thoroughly to avoid any chance of salmonella.  One more red – strawberries!  Nothing better. Wash them well, chill and pop them whole in your mouth for a delicious summer taste treat.  Red rhubarb is another treat – rhubarb pie or crisp, topped with ice cream is an unique American treat you should try one day!
WHITE – hmmm.  Are deviled eggs included in your picnic menu?  Be sure to keep them (and potato or macaroni salad) on ice.  These foods (and the mayonnaise used in preparation) are especially sensitive to heat and can spoil quickly in the sun and heat.  If you don't want to spoil your holiday with a case of food poisoning, keep an eye on those mostly white foods.  Summer is prime time for fresh picked corn on the cob.  The white kernel seems to be the most tender and sweet of the varieties, but is sometimes hard to find.  The markets now have "bi-color" corn that brings both white and yellow kernels to your taste buds.
One of my favorite memories of summertime long ago is making ice cream in the old churn bucket.  Packed with ice and teased with ice cream salt, it was my job as a child to sit on top of the old oak bucket while my uncles hand cranked the machine.  The reward was usually yummy banana ice cream for the whole neighborhood.  Good old times!  In days since I have experimented with other vanilla based white ice cream flavors.  One of my favorites is to add some almond extract to the vanilla for a more sophisticated taste.  Don't forget summer-ripe peaches, mangoes and even fresh pecans toasted in butter to make the very best butter-pecan ice cream.  I also love angel food cake – a fluffy white cloud sometimes topped with fresh strawberries and dollop of whipped cream.
The ubiquitous blueberry is my first thought for BLUE food, but of course there are also bluish plums and bluish grapes.  All of these are good for you.  (Did you know that the darker the pigment in foods, the better they are for you?  For instance, red or blue-purple grapes are better for you than green grapes.)   How about Blue Crab?  Crab cakes and crab dip.  Blue cheese?  For the sake of this article I am going to expand blue to include purple.  These dark hued foods contain anthocyanins, which do a masterful job of tracking down nasty "free radicals."  Even including purple eggplant, purple cabbage and Peruvian purple potatoes, these foods make up less than 3% of the average American's diet.  We will not count the many artificially colored blue popsicles and life-savers, etc.  Blue candy is not food.
In preparing for this article I did a quick internet search for "blue food."  Found an interesting article that noted that the color blue is the rarest color in nature.  With the exception of the sky and the seas, very few things in nature are truly blue.*  So during this red, white and blue month, I encourage you to look around and appreciate the blue you see in our sky, our waters, and in the blue eyes of children and Siamese cats!
Some final thoughts:  when you are out in the sunshine this month please wear sunscreen so you don't turn red as a lobster; if you are out boating, keep an eye on white caps which may signal rough water ahead (and wear your flotation device always); and when you realize that the month of July means half your summer break is behind you, don't feel too blue, Christmas is only 5 months away!
*Joshua Engel, Enthusiastic Eater and Adventurous Cook, "Blue (color): Is there any naturally occurring blue food?"  Quora
Dattoli Cancer Center
1-877-DATTOLI | www.dattoli.com