The numbers may surprise people, but chronic pain affects more than 1.5 billion people worldwide, a number that outpaces heart disease, cancer, and diabetes combined. The condition can negatively impact personal relationships, productivity, and a patient's daily routine.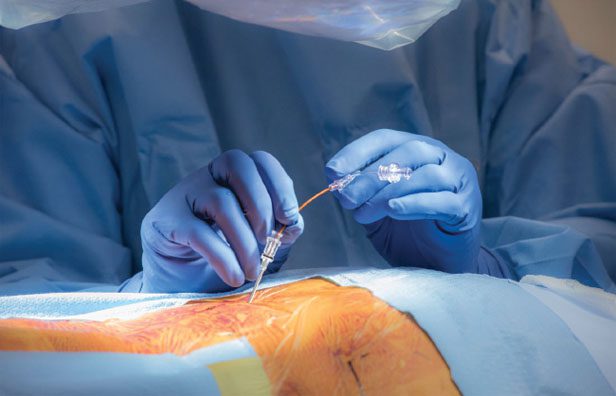 To relieve their pain, many patients will try anything and everything, visiting doctor after doctor seeking pain relief. Opioids often become the treatment of choice. However, by this point, the world is acutely aware of the prevalence of opioid abuse in the US.
That begs the question: are there meaningful alternatives for patients to find effective relief from chronic pain? Treatment options, such as neurostimulation therapy, have been shown to help control pain so you can live the life you want.
Neurostimulation is a proven and established therapy that consists of small, implantable devices that use electricity to deliver pain relief to transform the quality of life for many people who are otherwise unable to find relief from chronic pain.
The dorsal root ganglion in the spine contains clusters of cell bodies made up of sensory neurons within the epidural space that bring information from the periphery to the spinal cord. This root is responsible for carrying pain signals to the spinal cord which then carries them to the brain.
Dorsal Root Ganglion Stimulation
Devices to stimulate the dorsal root ganglion (DRG) for treating chronic pain, are particularly effective in areas that were challenging to treat with traditional spinal cord stimulation, such as the groin, hand, chest, abdomen, foot, and knee.
Abbott's BurstDR Stimulator
In a study of 5,400 patients, spinal cord stimulation (SCS) therapy was shown to reduce or stabilize opioid use in chronic pain patients. Abbott's proprietary SCS waveform – known as BurstDR stimulation—has been clinically proven to offer superior pain relief over traditional SCS therapy and is preferred by 81% of patients. BurstDR is the first-ever SCS therapy to deliver closely-spaced pulses of electrical energy that mimic the natural neural firing patterns in the brain, and even modulates both the lateral and medial pathways of the brain, unlike traditional tonic waveform SCS therapy which only targets the lateral pathway.
With a more comprehensive approach to treating how the body responds to chronic pain, BurstDR technology has demonstrated superiority over the tonic SCS and been proven to reduce pain in the back by 51 percent, pain in the limbs by 53 percent and general pain by 55 percent compared to tonic stimulation.
Compared to competitor stimulation products, with BurstDR, there have been little-to-no reported paresthesia, or tingling sensations, for patients. Abbott's dorsal root ganglion stimulation (DRG therapy), designed to manage difficult-to-treat chronic pain in specific areas of the lower body has been shown to deliver statistically significant pain relief over traditional SCS for patients with complex regional pain syndrome (CRPS).
The Orthopedic Center of Florida Specializes in Dorsal Ganglion Root Stimulation.
George Soliman, M.D.
Dr. Soliman is Board Certified in Anesthesiology and Interventional Pain Management. He specializes in the diagnosis and treatment of chronic pain, utilizing both minimally invasive surgical and non-surgical treatments for painful conditions of the neck, back, arms, legs, and major joints. In addition, Dr. Soliman has experience with difficult to diagnose pain disorders and a wide variety of chronic and acute pain conditions.
Dr. Soliman was born and raised in Columbus, Ohio and completed his undergraduate training at The Ohio State University and Medical education at the American University of the Caribbean. He has a Bachelor of Science degree in Molecular Genetics.
Upon finishing medical school, Dr. Soliman completed his Anesthesiology Residency at The Mayo Clinic in Jacksonville, Florida. He completed his training with distinction and multiple conference presentations and publications. He worked with some of the pre-eminent physicians in the field of Anesthesia and Pain Management and then pursued an Interventional Pain Management Fellowship at The Emory University School of Medicine in Atlanta, Georgia.
His professional skills include spinal injection procedures consisting of epidural steroid injections, radiofrequency ablation, discography, vertebro-
plasty/kyphoplasty, spinal cord stimulation, dorsal root ganglion stimulation (DRG), peripheral nerve stimulation, minimally invasive disc decompression and spinal stenosis decompression, diagnostic injections, trigger points, and comprehensive multimodal pain management. He is trained in the latest techniques in fluoroscopy and ultrasound-guided pain procedures and performs the latest techniques in the field, including peripheral nerve stimulation and dorsal root ganglion stimulation.
To schedule your appointment, please call (239) 482-2663
Orthopedic center of Florida
239-482-2663 | www.ocfla.net
12670 Creekside Lane, Fort Myers, FL 33919