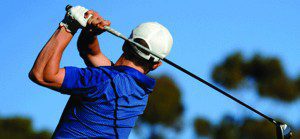 Naples has an abundance of beautiful golf courses and golfers. Unfortunately, there is also no shortage of golf related injuries. Common injuries include low back pain, shoulder pain, and golfer's elbow – which is often the most stubborn to treat.
Golfer's elbow, or medial epicondylitis, is similar to its counterpart, tennis elbow. The primary differences between these conditions are the location of the pain and the activity that leads to injury. However, both conditions are caused by overuse of the muscles and tendons of the forearm, leading to inflammation and pain around the elbow joint, commonly called tendonitis. Golf is one common cause of tendonitis, but many other sports and work related activities can cause the same problem.
The cause of golfer's elbow can vary from a single violent action (acute injury) to, more commonly, a repetitive stress injury where an action is performed repeatedly and pain gradually develops. In an acute injury of the elbow inflammation occurs without substantial tissue damage. However in a repetitive stress situation a person may experience damage to the tendon and surrounding soft tissue causing tissue degeneration over time. Inflammation from acute injury often responds quickly to rest and anti-inflammatory treatment. If the injury is due to tendon tissue degeneration, the treatment program is longer and is focused not only on rebuilding tissues but also on improving the strength of the tendon.
Golfer's Elbow Symptoms
With golfer's elbow, pain is on the inside of the elbow and typically increases during wrist flexion or pronation and often radiates to the forearm. Because this frequently occurs in golfers, it has become known as "golfer's elbow". However, it is also known as "pitcher's elbow".
Treatment for
Golfer's Elbow
Golfer's elbow does not usually cause any long-term disability. However, proper diagnosis and treatment will allow you to quickly get back to your golf game. Treatment can vary based on the patient. Fortunately, there are several options available.
K Laser Therapy to Heal the Damaged Tissue
Laser therapy is an excellent option for healing the damaged tissue. K-Laser is the only form of therapy that can both reduce inflammation and heal tissue simultaneously. This painless treatment typically takes less than 10 minutes and most patients notice a difference in as few as 1-2 sessions.  Laser treatments at Synergy are done with the K-Laser.   During Laser Therapy the infrared laser light interacts with tissues at the cellular level, increasing metabolic activity and improving the transport of nutrients across the cell membrane. This initiates the production of cellular energy (ATP) that leads to a cascade of beneficial effects, increasing cellular function and health. This creates an optimal healing environment that reduces inflammation, swelling, muscle spasms, stiffness, scar tissue and pain.
In addition to K-Laser Therapy, massage therapy and chiropractic adjustments to the injured area are helpful in restoring optimal biomechanics. For more severe cases, medical intervention may be appropriate.  A short course of anti-
inflammatories can help reduce swelling and trigger point injections can help release the "knots" that often form in the muscles and refer pain into the forearm.
Correct the Mechanics of Motion
Once the initial pain has begun to subside, physical therapy is a great option for achieving lasting relief and preventing future exacerbations. Specific strengthening and stretching exercises are provided to restore optimal movement and function. If your golf swing contributed to this problem in the first place, it is also a great idea to consult with a golf professional about your swing.  The team at Synergy Health is well versed in the treatment of golfer's elbow and is able to provide all of the above treatment options in one convenient location. In addition, our location has a state of the art golf simulator operated by Golf Professional Justin Ahasic. With years both touring and teaching, Justin provides the tools every golfer needs to bounce back from and prevent an injury while improving your golf game. To schedule a consultation with our health or golf staff, call 239-263-3330 or visit our websites at synergynaples.com and synergy.golf.
Synergy Health
(239) 829-6361
13020 Livingston Road
Suite 14
Naples, FL 34105