By Jonathan M. Frantz, MD, FACS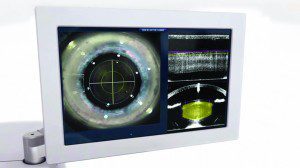 At Frantz EyeCare we offer both bladeless laser cataract surgery and traditional cataract surgery. With the bladeless procedure, the first three steps of your surgery are done with a computer controlled LenSx laser to ensure the highest-precision surgical incisions. The LenSx is unquestionably the most technologically advanced option for cataract patients.
LenSx utilizes a femtosecond laser, which offers superior precision and results. The three key patient benefits of bladeless laser cataract surgery versus traditional cataract surgery are:
1) The laser provides a more precise circular incision around the cataract, improves the accuracy during placement of the intraocular lens implant, and leads to a greater likelihood of clearer vision. A real time computerized laser imaging system guides the laser beam to the correct target during the surgery.
2) The laser pre-softens the cataract, allowing the surgeon to minimize the use of ultrasound energy to remove the cataract lens. Decreased usage of ultrasound energy reduces the chances of thermal injury to tissues inside the eye, which lessens recovery time.
3)  Astigmatism correction can be done at the time of cataract surgery using this laser as opposed to a manual incision using a surgical blade with traditional surgery. Astigmatism requires patients to wear glasses after cataract surgery. Correcting this at the time of cataract surgery lessens the need for glasses subsequently.
After the first three steps of your procedure are completed by the LenSx laser, you will be taken to the operating room for the cataract removal.
All procedures done on the LenSx laser are considered premium refractive surgery and require out-of-pocket charges. We will be happy to discuss this with you during your visit, as well as flexible payment plans.
In traditional cataract surgery, the surgeon makes tiny inci¬sions in your eye with a surgical blade rather than using the laser.
In both traditional cataract surgery and bladeless laser cataract surgery, microsurgical instruments are used in the operating room to remove the cloudy lens from the eye. A focusing intraocular lens is placed inside the eye to replace the natural lens that was removed. This focusing lens can correct nearsightedness or farsightedness, and may reduce your need for distance and reading glasses. The incision is self-sealing and heals without stitches.
We are pleased to announce that Cataract & Cornea Specialist George Corrent, MD, PhD, has joined our medical team and will see patients in our Naples and Fort Myers offices. We have added Dr. Corrent to our medical team to help with the increased demand for bladeless laser cataract surgery, as well as to provide general ophthalmology care for our patients.
Dr. Corrent comes to Frantz EyeCare from the prestigious Bascom Palmer Eye Institute where he practiced since 2009. He was also a staff physician at Physician's Regional Medical Center and before that had a private practice in Naples for three years.
Jonathan M. Frantz, MD, FACS, is named in The Guide to America's Top Ophthalmologists. He and his team of doctors at Frantz EyeCare offer a broad spectrum of patient-focused comprehensive care from eye exams and eyewear to bladeless laser cataract removal, treatment of eye diseases, bladeless WaveLight LASIK laser vision correction, and eyelid surgery with office locations in Fort Myers, Cape Coral, Punta Gorda, Lehigh Acres, and Naples.
To learn more about bladeless laser cataract surgery, call our Punta Gorda office at 941.505.2020 or visit our website BetterVision.net