By Leandro Perez Segura, MD, FACC, FSCAI, RPVI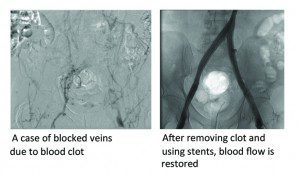 Deep vein thrombosis (DVT) occurs when a blood clot (thrombus) forms in one or more of the deep veins in your body, most commonly in your legs.
Deep vein thrombosis is a serious condition because blood clots in your veins can break loose, travel through your bloodstream and lodge in your lungs, blocking blood flow (pulmonary embolism). In addition, clots can partially or completely obstruct the blood flow causing a painful, deforming leg chronic condition.
Signs and symptoms can include:
• Leg swelling. If both legs are affected, the clot may be bilateral (rare) or affect the vena cava.
• Pain in your leg. The pain often starts in the calf and can feel like cramping or a soreness.
Risk factors for DVT include:
• Inheriting a blood-clotting disorder.
• Prolonged bed rest.
• Paralysis.
• Injury or surgery.
• Pregnancy.
• Birth control pills or hormone replacement therapy.
• Being overweight or obese.
• Smoking.
• Cancer.
• Heart failure.
• Inflammatory bowel disease.
• A personal or family history of deep vein thrombosis or pulmonary embolism (PE).
• Advanced age.
• Sitting for long periods of time, such as when driving or flying.
Postphlebitic Syndrome
A common complication that can occur after deep vein thrombosis is a condition known as postphlebitic syndrome, also called postthrombotic syndrome; this can be seen in up to 50% of patients following a proximal DVT. This syndrome is used to describe a collection of signs and symptoms, including:
• Swelling of your legs (edema)
• Leg pain
• Skin discoloration
• Skin sores
This syndrome is caused by increase blood pressure in your veins due to the presence of the blood clot. The symptoms of postphlebitic syndrome may not occur until a few years after the DVT.
Treatment
Deep vein thrombosis treatment is aimed at preventing the clot from getting any bigger, as well as preventing the clot from breaking loose and causing a pulmonary embolism. After that, the goal becomes reducing your chances of deep vein thrombosis happening again.
Deep vein thrombosis treatment options include:
• Blood thinners. Medications used to treat deep vein thrombosis include the use of anticoagulants, also sometimes called blood thinners, whenever possible.
• Clotbusters. If you have a more serious type of deep vein thrombosis or pulmonary embolism, or if other medications aren't working, your doctor may prescribe different medications.
• Filters. If you can't take medicines to thin your blood, a filter may be inserted into a large vein — the vena cava — in your abdomen. A vena cava filter prevents clots  that break loose from lodging in your lungs. Once they are no longer necessary, filters should be removed.
• Compression stockings. These help prevent swelling associated with deep vein thrombosis. These stockings are worn on your legs from your feet to about the level of your knees.
It is recommended that you seek medical attention if you notice leg edema with or without leg pain. An ultrasound study of your veins is performed and can help to diagnose if a blood clot is present in your leg veins.
In selected cases, a catheter-based procedure can be offered to remove clot material from your veins and restore your venous blood flow.
Dr. Perez is an Endovascular Specialist with experience in the comprehensive management of DVT; he is accepting new patients. We'll be happy to provide a consultation.
Leandro Perez Segura,
MD, FACC, FSCAI, RPVI
Interventional Cardiologist
Endovascular Specialist
Languages: English, Spanish
Hospital Privileges: Naples Community Hospital, Physicians Regional
Special Focus: Peripheral Arterial Disease, Coronary Artery Disease, Deep and Superficial Venous Disease
Board Certifications: Internal Medicine, Cardiology, Interventional Cardiology, Endovascular Medicine, Echocardiography, Nuclear Cardiology and Vascular Interpretation
Medical School: Madre y Maestra Pontifical Catholic University
Internal Medicine Residency: Wayne State University. Detroit, MI
Cardiology Fellowship: Loma Linda University. Loma Linda, CA
Endovascular & Interventional Fellowship: Wayne State University. Detroit, MI
Memberships: American College of Cardiology, Society for Cardiovascular Angiography and Interventions, American Society of Nuclear Cardiology, American Society of Echocardiography, American College of Phlebology, American Registry for Diagnostic Medical Sonography