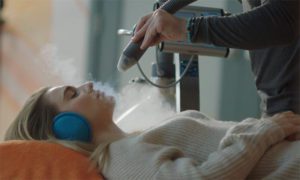 Jean Ankner was enduring the side effects of her treatment from metastatic breast cancer daily. Most of these side effects were ensuring a great deal of pain in her body. At one point, she was taking up to five ibuprofen's a day just to try and relieve her symptoms. After seeking conventional medicine, holistic therapeutics and everything in between, she finally found reprieve in a revolutionary cold therapy procedure.
While in New Jersey, she tried cryotherapy, which is touted for its pain-relieving benefits along with aesthetic and sports relief advantages as well. After her first treatment, she felt remarkable pain relief.
How Does Cryotherapy Work?
A cylindrical capsule (sauna) is filled with cold nitrogen gas. The client steps into the sauna and the frigid cold temperatures first react with the skin. As the skin is cooled by 30-50 degrees within the three-minute session, the brain puts the body into survival mode. This causes an anti-inflammatory response, which evokes dense amounts of oxygen to permeate the blood. This enrichment of the blood causes oxygen, endorphins, and proteins to increase, which creates a natural muscle and joint pain relief.
Jean saw such great benefits from cryotherapy that she opened her own Orange Cryo Wellness center in Naples, FL. Orange Cryo Wellness of Naples utilizes state-of-the-art technology. The Juka Cryotherapy Sauna is made in Poland and ranges in temperatures of -200 to -256 degrees Fahrenheit. A liquid nitrogen vapor helps to constrict blood vessels, and directly after the 3-minute session, the blood's properties are drastically enriched.
Facials & Body Treatments
Orange Cryo Wellness also offers aesthetic treatments for the face and body. The Pagani Cryo Toning technology is from Italy, which utilizes cold vapor that is directly guided to the face or problem areas of the body to decrease wrinkles, skin conditions, bulges, and fat pockets.
Using a stream of vaporized liquid nitrogen to cool the skin, this 6-minute treatment produces an instantaneous tightness in the skin, filling in fine lines, and wrinkles. Toxins and other stored deposits are flushed out of the layers of the skin, and blood perfusion is improved after several treatments.
Cryo Toning Benefits:
• Face Lifting
• Anti-Aging
• Cleaning
• Drainage
• Slimming
• Double Chin
• Wrinkles
• Fat Removal
• Firming
• Cuperose (Red Skin)
• Décolleté (Saggy Neck)
• Shaping/Definition
• Aqueous Cellulite
• Adipose Cellulite
• Fibrous Cellulite
• Muscle Relaxing
Localized Cryotherapy Treatment
Localized Cryotherapy treatment is effective in reducing pain, inflammation, and swelling by penetrating deep into the layers of tissue, increasing blood circulation and reducing muscle related tension and soreness. Sessions range from 4-8 minutes and are commonly used in combination with whole-body cryotherapy.
Jean has seen many clients with pain from autoimmune disorders; athletic injuries and other medical conditions decrease their pain with cryotherapy. At Orange Cryo Wellness of Naples, FL. their mission is to assist you in gaining access to one of the most revolutionary health-promoting technologies available today. Their knowledgeable, friendly team will guide you every step of the way. Once you experience the incredible benefits of cryotherapy, you'll understand why they are so passionate about making it available to you.
To find out more, please call them at 239-300-0841, or visit their website at Naples.OrangeCryo.com