By Dr. Joseph Farag –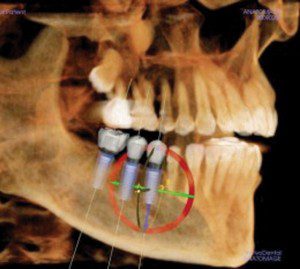 Most radiographic images used in implant surgery prior to the advent of CBCT were only twodimensional. These images, if properly taken, only provided a rough estimation of bone height. Often times, the bone width and actual 3 dimensional shape was only visible during surgery, sometimes necessitating some creative solutions for anatomical problems, and other times an incorrect placement of the implants.
A Precise and Predictable Solution
As dental implant surgery has become more widespread, a more precise and predictable solution for surgery was needed. This need gave rise to the development of 3-D imaging technologies that could easily be used in a general dentist practice.
Radiation Exposure is Mild
Cone beam computed tomography (CBCT),also referred to as 3-D x-ray, has many distinct advantages over traditional two-dimensional imaging. The amount of radiation exposure compared to traditional CT scan is mild. In some cases, it can be as little as 1/100 of the exposure used in CT.
Implants Placed with High Degree of Precision and Accuracy
Another advantage of three-dimensional imaging is the detailed assessment of the bone scan using specific software. This software, used in conjunction with the 3-D images obtained by CBCT scans, provides a clinician with an indispensable tool for planning implant surgeries. With the use of these specifically designed surgical guides, implants can be placed with a very high degree of precision and accuracy. There is little discrepancy between the planned surgery on the computer and the final implant placement.
Less Discomfort and Shorter Treatment Time
These procedures can also be accomplished in a more conservative manner which provides the patient with less discomfort and a shorter treatment time.
Cross-section view of a patient who does not have adequate bone for an implant. By using the 3-dimensional images and planning software we can determine that this patient will require a sinus graft prior to implant placement.
To learn more about dental implant surgery or to schedule an appointment, call Dr. Joseph Farag at Port Charlotte Dentalcare, 941-764-9555.