By Juan Teodoro, D.M.D.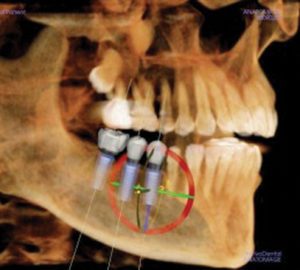 Computer Guided Dental Implant Surgery actually allows the procedure to be "performed" in advance of the surgery.  Surgical simulation can be done on the computer, so the exact size and ideal location for the implant is known.  In essence, the treatment is completed on the simulator pre-surgically.  Recent computer technology breakthroughs enable a surgical guide to be electronically constructed to guide implant placement during surgery.
3-Dimensional Cone Bean Computerized Tomography (CBCT) imaging can provide important information regarding the width, shape, quality and volume of bone in cross-section.  Once the scan is obtained, the shape of the bone can be clearly seen and a discussion can be conducted of whether procedure such as bone grafting will be required.  Other important anatomic landmarks can also be identified that cannot be seen with traditional x-rays.
Computer Guided Dental Implant Surgery is typically performed in less than an hour.  In most cases, no incisions or sutures are usually needed and therefore post-operative swelling / discomfort is minimal.  This state-of-the-art procedure can be used for patients requiring 1 implant to patients in need of full mouth rehabilitation.
Dr. Teodoro is a Board Certified Periodontist.  He holds both Diplomate status in the American Academy of Periodontology and the International Congress of Oral Implantologists. Dr. Teodoro served as a Major in the U.S. Air Force practicing periodontics. Throughout his Air Force career he served as Chief of Periodontics, Director of the Implant Board & Clinical Instructor.  He is currently a clinical assistant professor at the Naples dental residency program for the University of Florida.  Dr. Teodoro is still the only periodontist in both Lee & Collier County trained in Advanced Laser dentistry.