By Peter Curcione, D.O.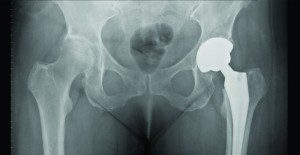 Problems with your hips can be caused by diseases such as osteoarthritis or avascular necrosis. Other hip problems are attributed to injuries such as sprains, bursitis, dislocations and fractures. Treatments for hip problems range from basic pain management techniques to sophisticated medical treatments to cure disease and repair injuries.
Resurfacing vs. Replacement
Depending on the amount of damage, a surgeon may recommend hip resurfacing or total hip replacement surgery to a patient.
If hip resurfacing is an option, the surgeon will simply reshape the damaged surface of the femoral ball and then cover it with a round cap. The limitation here is that the procedure only works for bone that is not too damaged by arthritis. Generally speaking, surface replacements are not performed on patients with serious arthritic conditions, because if the bone is not strong enough, there is a small but real risk of fracturing. Therefore the average age of resurfacing patients may be 50 years or younger. Statistically, the resurfacing operation is an option for about 7 out of a 100 patients.
For a total hip replacement, the surgeon will remove degenerative cartilage and bone from the hip joint and replace them with prosthetics. This surgery is used to accomplish long-term pain relief and increased mobility.
With total hip replacement, the removal of the diseased ball gives the surgeon many more options in material choices, for example polyethylene, cobalt-chrome alloy and ceramics. There are also additional choices in various ball diameters and cup designs that resurfacing does not have. Thus total hip replacement is a far more common procedure than hip resurfacing and has a much longer history worldwide.
Hip replacement surgery is performed over 300,000 times each year in the U.S. to repair severe hip damage. In a hip replacement, the surgeon removes degenerate cartilage and bone from the hip joint and replaces them with prosthetics.
The design of the implant offers you renewed stability and function. Hip replacement can relieve pain help your hip joint work better, and restore normal walking and other movements. Hip replacement surgery has a very high success rate, and can offer an incredible quality of life improvement to some patients.
Minimally Invasive Option
Improvements in technique and surgical instrumentation allow today's surgeons to insert prosthetic hip and knee joints using shorter skin cuts with less surgical trauma, resulting in fewer days spent in the hospital, smaller scars and shorter rehabilitation. These most recent trends in hip replacement surgery focus on improved rehabilitation and pain management to accelerate post-surgery recovery. Employing new surgical techniques to reduce the size of the incision and damage to soft tissue has been the primary advance toward this goal.
While the implants used for the minimally invasive hip replacement procedures are the same as those used in conventional procedures, surgeons do use specially designed instruments.
The surgical procedure itself is very similar with slightly less soft-tissue dissection. A single minimally invasive hip incision may measure only 3 to 6 inches. Comparatively, two-incision hip replacement involves a 2- to 3-inch incision over the groin for placement of the socket and a 1- to 2-inch incision over the buttock for placement of the stem.
Although the general idea of hip replacement is the same today as it was decades ago, we now have better implants, improved instruments, computer navigation technology and robotics, and vastly improved anesthesia techniques that have radically changed joint replacement surgery.
Despite these improvements, it is still important to choose the right MIS surgeon. In experienced hands, these procedures have superb short-term outcomes, with faster recovery, less pain, and shorter down time. But not all surgeons can deliver these results.
The Joint Academy at Lehigh Regional Medical Center's Comprehensive Orthopedic Care
The Joint Academy at Lehigh Regional Medical Center's orthopedic specialists handle everything from a torn muscle or broken bone to total joint replacement and minimally invasive surgery. Lehigh Regional Medical Center offers comprehensive, multidisciplinary care in an environment where patients come first.
Advances in medical technology have made joint replacement therapy a highly effective option to treat chronic joint pain from arthritis and other degenerative joint diseases or injury. The Joint Academy at Lehigh Regional Medical Center's multidisciplinary orthopedic care team includes orthopedic doctors, surgeons, pain management specialists and physical therapists who provide comprehensive care. Dr. John C. Kagan has hospital privileges.
Part of our comprehensive care includes preparing our patients properly before surgery, as well as helping them recover their mobility. You'll know what to expect before, during and after surgery. Our orthopedic care professionals are focused on providing exceptional care from diagnosis through recovery.
Peter Curcione, D.O.
Board Certified, Orthopedic Surgery
Athletic Orthopedics & Reconstruction Center
The Joint Academy
This specialized unit is for total knee and total hip replacements. The Joint Academy consists of small groups of patients focusing on pre-surgical education, hospital stay and rehabilitation.
For more information please contact us at (239) 368-4534.
Offices: Fort Myers & Lehigh Acres bone-fix.com/drcurcione 239-368-8277