Courtesy of The Eye Associates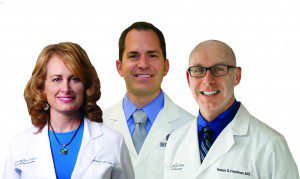 Q: Can cataract grow back?
No, cataracts cannot grow back, however, even after successful cataract surgery, the natural capsule that is left behind can become cloudy and causes vision to become blurry again. This occurs in approximately 35 percent of patients. It can happen soon after cataract surgery or many years later. Not to worry, though. This cloudy capsule can be corrected quickly, without needles or stitches, using a simple laser procedure called a YAG Laser Capsulotomy. "We use a YAG laser to create a small opening in the capsule, which provides a clear path for light to pass into your eye. No anesthesia is required for this painless procedure, and in most cases, people see sharply again right afterward, usually returning to normal activities that same day" explains Dr. Brian Foster, Cataract Surgery Specialist.
Q: Is the YAG laser used to do cataract surgery?
No, even though the YAG laser is sometimes used after cataract surgery, The Eye Associates uses an Alcon LenSx laser (a femtosecond laser) for Bladeless Laser Cataract Surgery. Dr. Cathleen McCabe explains, "This laser emits cool pulses to automate the most challenging steps of cataract surgery, such as performing corneal incisions, opening the capsule, and softening and breaking up the cataract. In traditional cataract surgery these steps would be done manually with a blade. That is the reason why it is referred to as Bladeless Laser Cataract Surgery when the LenSx Laser is used."
Q: Can cataract surgery correct astigmatism?
Yes. There are lens implants that include astigmatic correction. Also, the LenSx® laser can treat astigmatism. With the high definition imaging of the laser, it provides real-time, three-dimensional images that enable our skilled surgeons, Dr. Robert Friedman, Dr. Cathleen McCabe and Dr. Brian Foster, to offer patients the most accurate and predictable outcomes.
Q: If I have glaucoma, can I get cataract surgery?
"Absolutely" says Dr. Robert Friedman, fellowship Trained Glaucoma Specialist and Cataract Surgeon at The Eye Associates. In fact, today's glaucoma patient with cataracts has more choices than ever before.
ECP (Endoscopic CylcoPhotocoagulation)
ECP is a glaucoma laser procedure that can be done on its own, or in combination with cataract surgery. Instead of focusing on the eye's drainage system, ECP works by reducing the amount of fluid the eye makes. Using a laser to treat the ciliary body, the pressure in the eye is lowered. ECP is a non-invasive, low risk procedure that is relatively easy to perform, and proven to be effective in treating patients with glaucoma.
iStent® Surgery
iStent® surgery is usually done during cataract surgery and it involves inserting a tiny L shaped device that acts as a permanent drain of the fluids which can reduce glaucoma pressure in the eye.
Go to our webpage at www.TheEyeAssociates.com and then into the section on Glaucoma to view a video on iStent. It is a great advancment in glaucoma treatment and one, along with ECP, that can help you decrease the expense of glaucoma drops.
Q: What are some common symptoms
of cataracts?
• Blurred Distance Vision: Vision in general starts to blur, but it is especially noticeable when driving or watching TV.
• Sensitivity to Glare: Many people find it difficult to drive towards the sun. They also find it harder to see golf balls against a bright sky, even though vision may seem acceptable under other circumstances.
• Night Blindness: Because a cataract allows less light through the lens, it may become more bothersome in low light conditions, especially when trying to drive at night.
• Loss of Depth Perception: If you find yourself bumping the curb when parking, or if others say that you get too close to cars while driving, you may have a cataract in just one eye, which can cause difficulty in judging distances.
• Difficulty Reading: Reading is often blurry, making it difficult to read medicine bottles and phones.
• Loss of Color Perception: This symptom usually goes unnoticed until after the cataract has been removed. Many people are even shocked to see the colors they have chosen for their home.
The First Step
Cataract surgery is highly successful and the most commonly performed surgery in the US. Patients are usually able to resume most normal activities within hours, and frequently have better vision than they had before they developed cataracts.
If you are experiencing any of the symptoms of cataracts, the first step is to have a comprehensive eye examination. Your doctor will be able to determine if a cataract is the cause of your decreased vision. If it is, and if it is inhibiting your quality of life and the activities that bring you joy, then you and your surgeon will determine which option is best for your eyes and lifestyle.
To make an appointment for a cataract evaluation, please call 1-866-865-2020.
Toll Free: 1-866-865-2020
www.Sight4Life.com
WEST BRADENTON
6002 Pointe West Blvd
EAST BRADENTON
7230 55th Avenue East
SARASOTA
2111 Bee Ridge Rd
ELLENTON
7915 US Hwy 301 North
SUN CITY CENTER
3894 Sun City Center Blvd.